News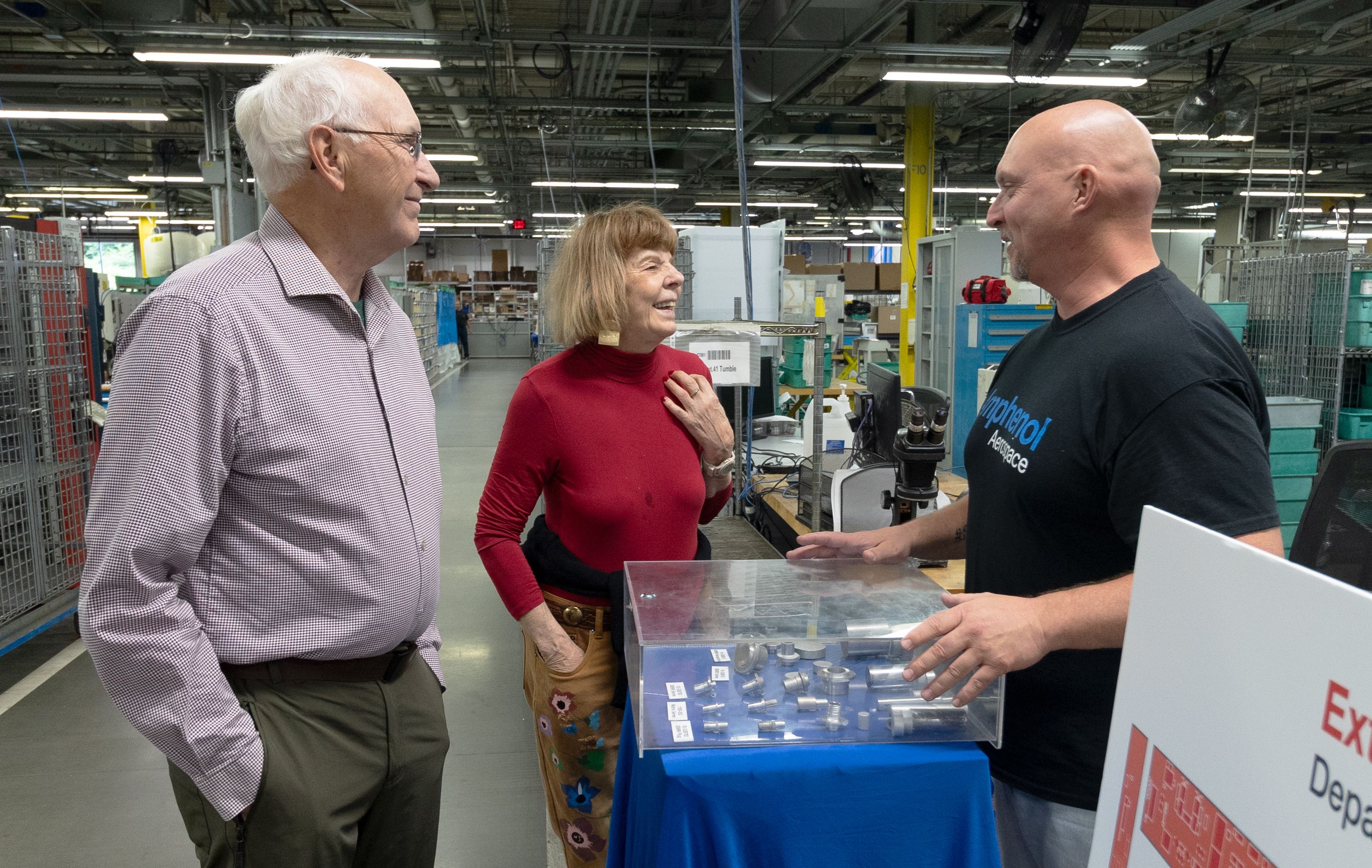 August 28, 2023
Open House 2023
SIDNEY, NY – Amphenol Aerospace transformed its state-of-the-art Sidney manufacturing facility into a hub of community, innovation, and celebration for its annual Open House on Aug. 27. Not only did the event raise an impressive $1,106 for multiple charities, but it also offered a warm welcome to Amphenol retirees, some visiting the new building for the first time.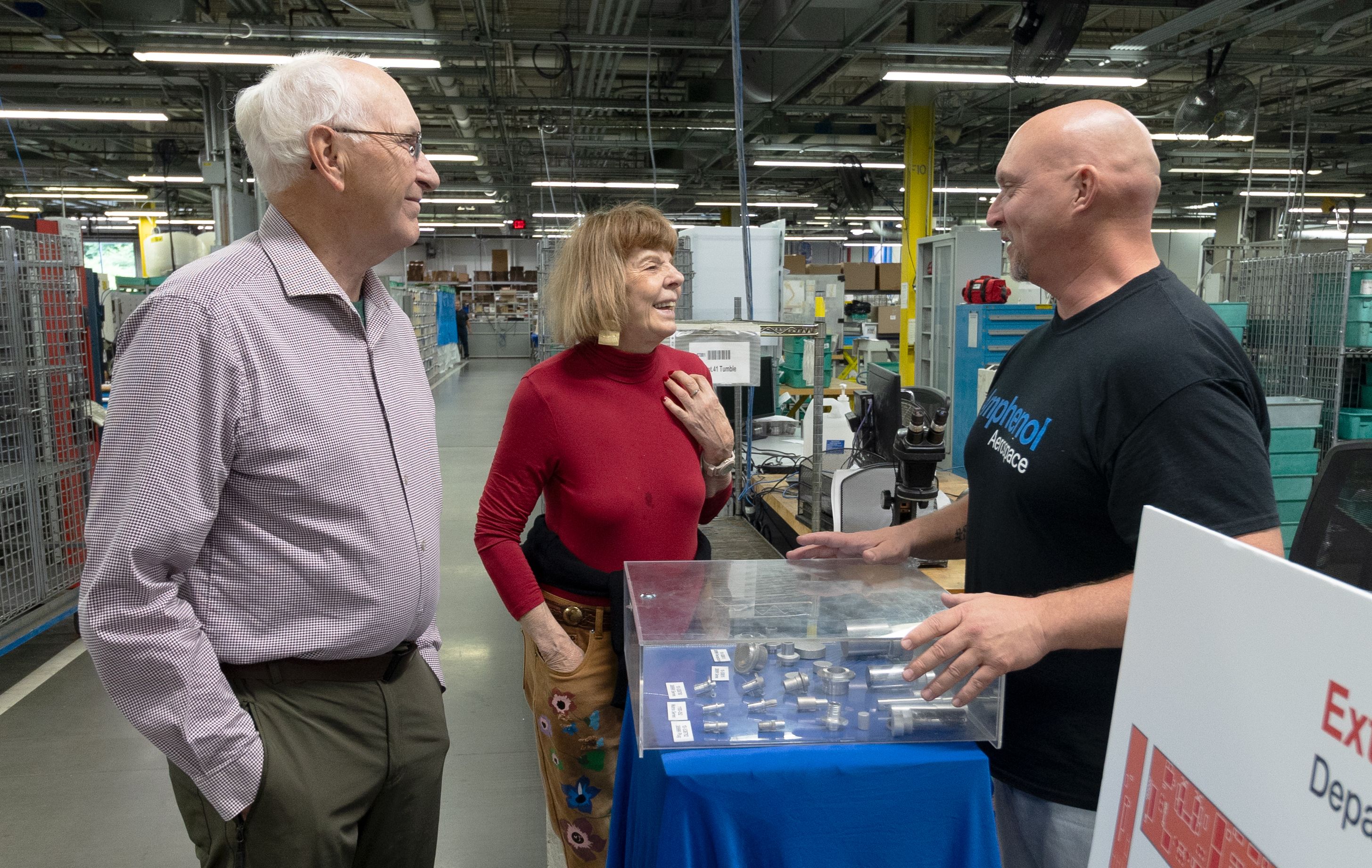 Learning about the manufacturing process during Amphenol Aerospace's annual Open House at the company's Sidney, NY facility on Aug. 27.
The Open House facility tour allowed employees, retirees, and their families to see and learn about multiple areas of the Amphenol Aerospace connector factory including contact machining, board level, assembly, materials and testing, shell machining, and more. Presentations were conducted on important steps in the connector manufacturing process, including engineering, molding, plating, etc., and engineering fun, which included interactive discussions and displays such as a large 3D printed connector that attendees could take apart to see the inner workings and that lit up blue when mated together.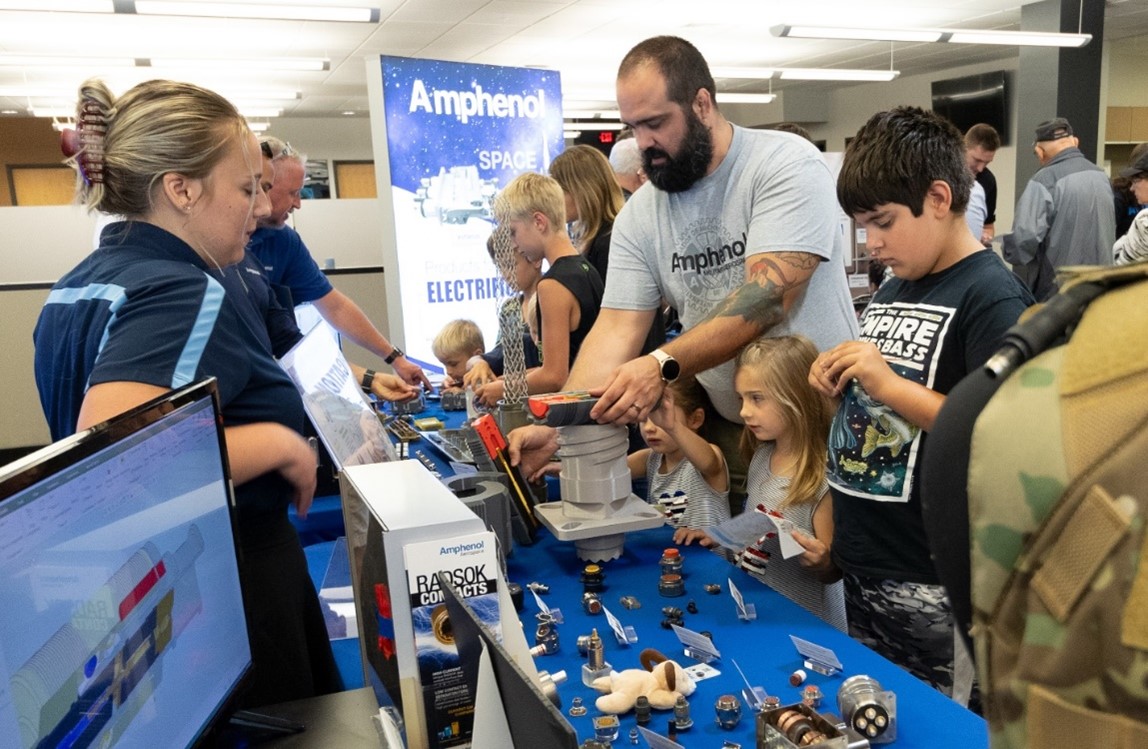 Visitors learn about Amphenol connectors during Amphenol Aerospace's annual Open House at the company's Sidney, NY facility on Aug. 27.
"Today's event was a way for us to welcome in our employees' families and our retirees and their families so they can get a chance to see where their family members work," said Sheri Youngs, Amphenol Aerospace Human Resources & Health and Safety Director. "And for retirees who maybe have never been in this building yet but have fond memories of the other, they get a chance to do a walkthrough and see all the neat things that have been happening."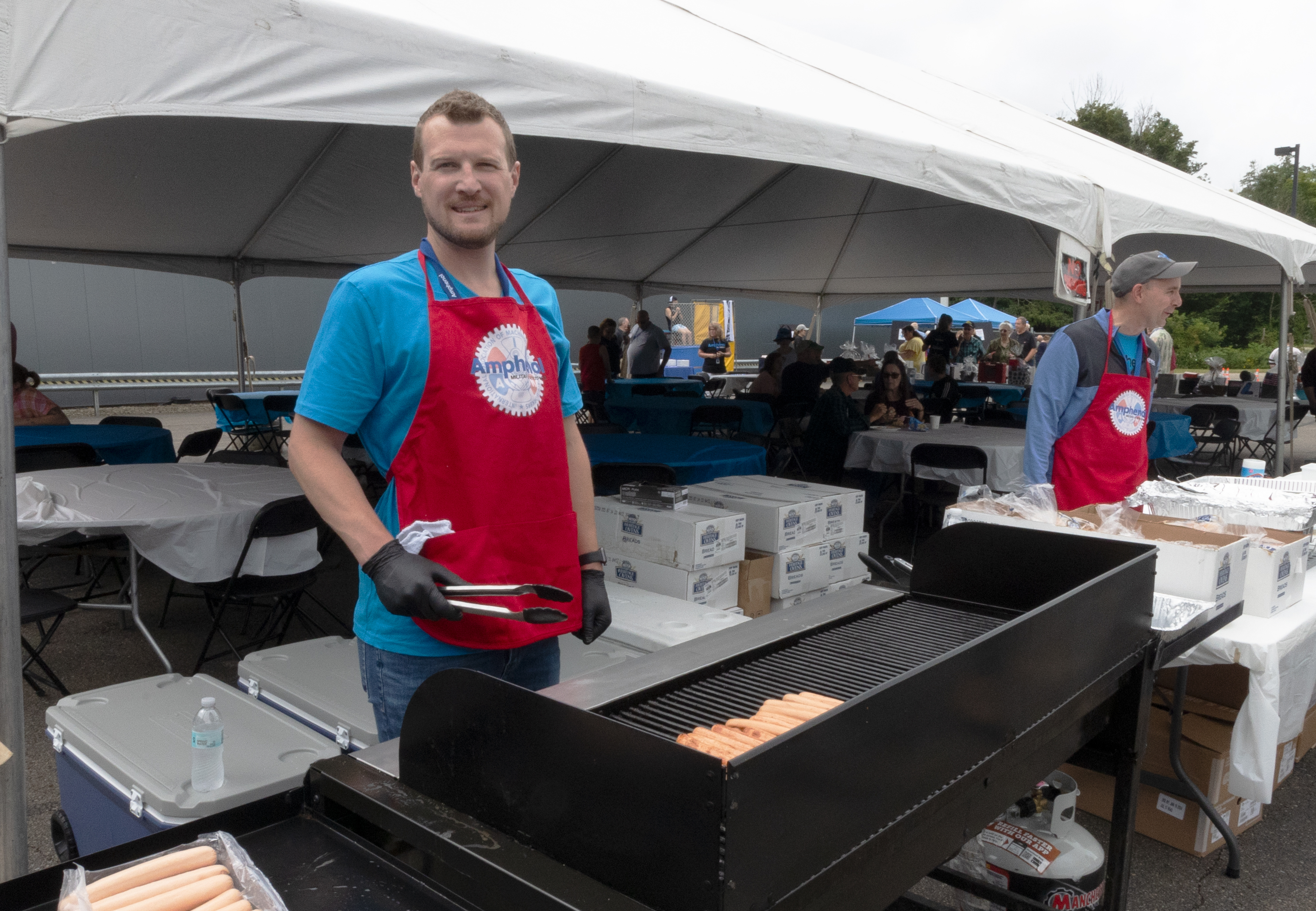 Amphenol Aerospace General Manager Kyle Brown grills hot dogs during Amphenol Aerospace's annual Open House at the company's Sidney, NY facility on Aug. 27.
Attendees were greeted by the inviting aroma of fresh refreshments as they entered, and a variety of snacks and beverages (some provided by local businesses) ensured everyone had something delicious in hand. Music was playing and the DJ helped create a festive atmosphere that set the tone for the day. The cornhole area invited people of all ages to take a break from the tours and engage in some friendly competition.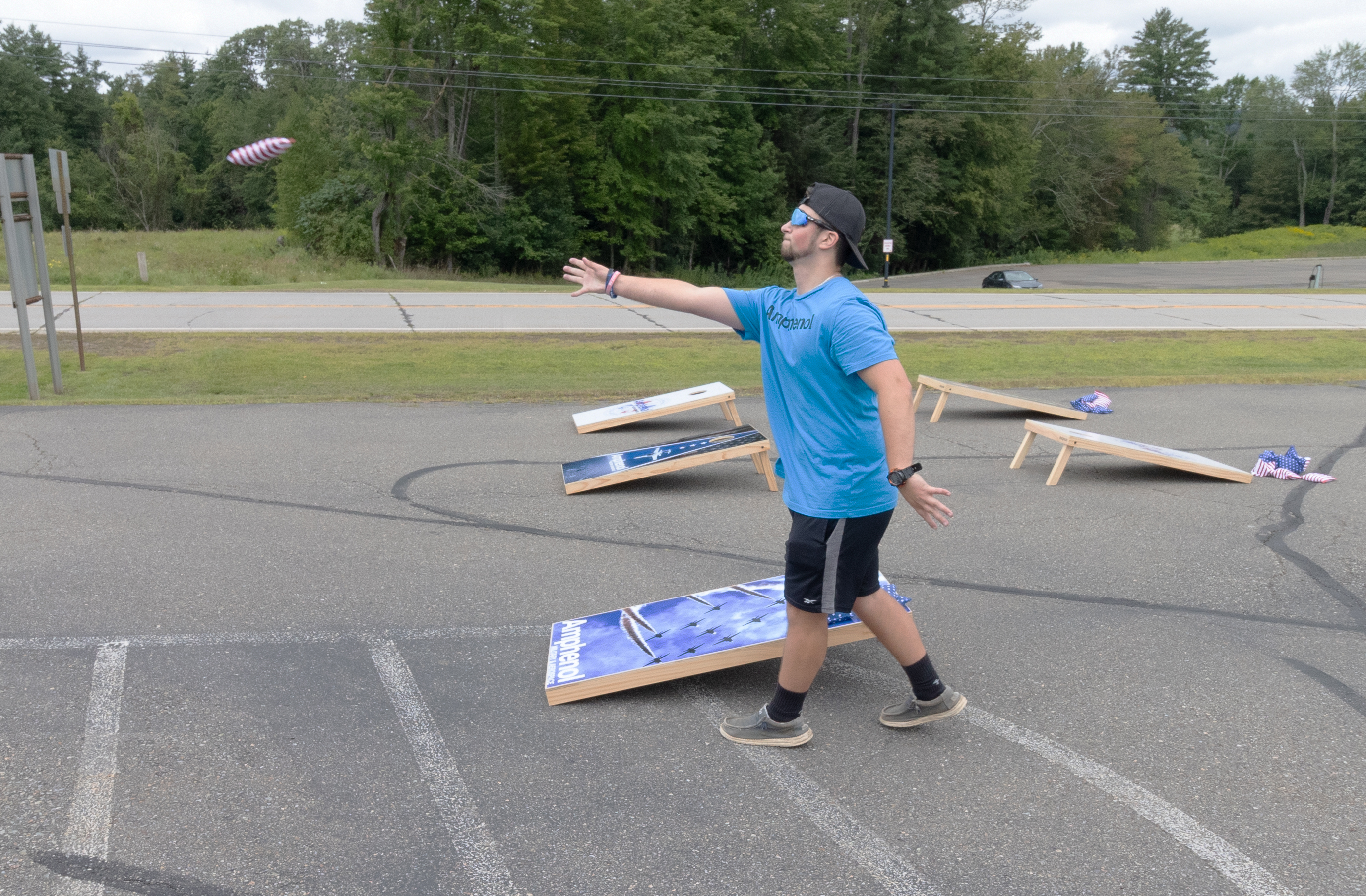 Playing Cornhole during Amphenol Aerospace's annual Open House at the company's Sidney, NY facility on Aug. 27.
"I think Amphenol means a lot to the community and the community means a lot to Amphenol. The set up of this year's event is a great representation of that, both in attendance turnout and the showcasing of several local vendors and businesses," said Amphenol Aerospace Human Resources Manager Valerie Wheeldon
Over 1,000 guests were estimated to have visited this year's open house. Attendees participated in a variety of games, giveaways, and presentations along with a facility tour.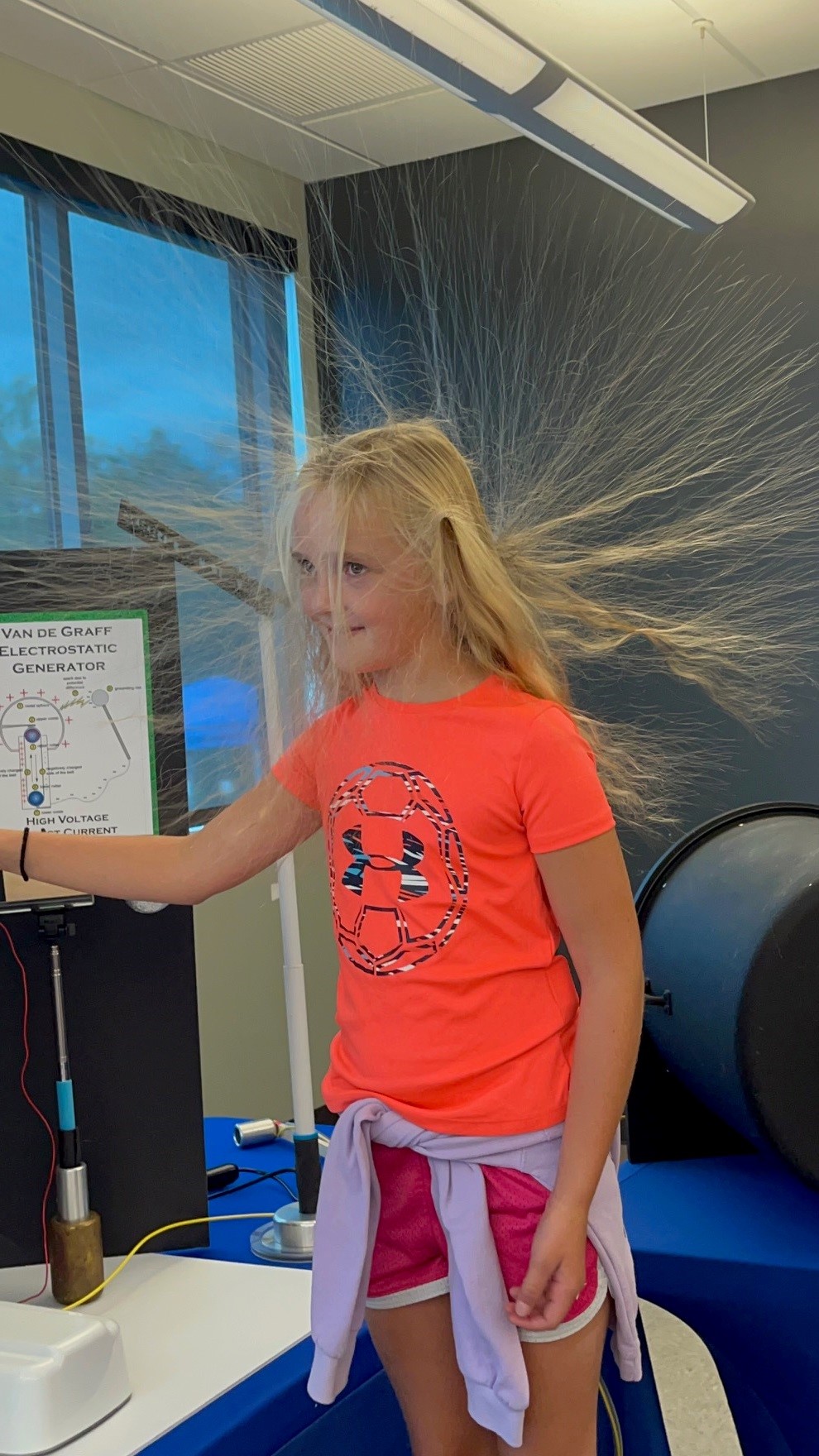 Having fun with a Van De Graff Electrostatic generator during Amphenol Aerospace's annual Open House at the company's Sidney, NY facility on Aug. 27.
But the day would not be complete without a dunk tank! Several brave Amphenol employees and union officials were dunked in the tank to raise money for a good cause.
Amphenol Aerospace Director of Operations Jason Youngs, Amphenol Military High Speed General Manager Jared Sibrava, Local Lodge 1529 President Jim Dix and District 15 IAM&AW Business Representative/Organizer Kevin Weidman decided to take the plunge.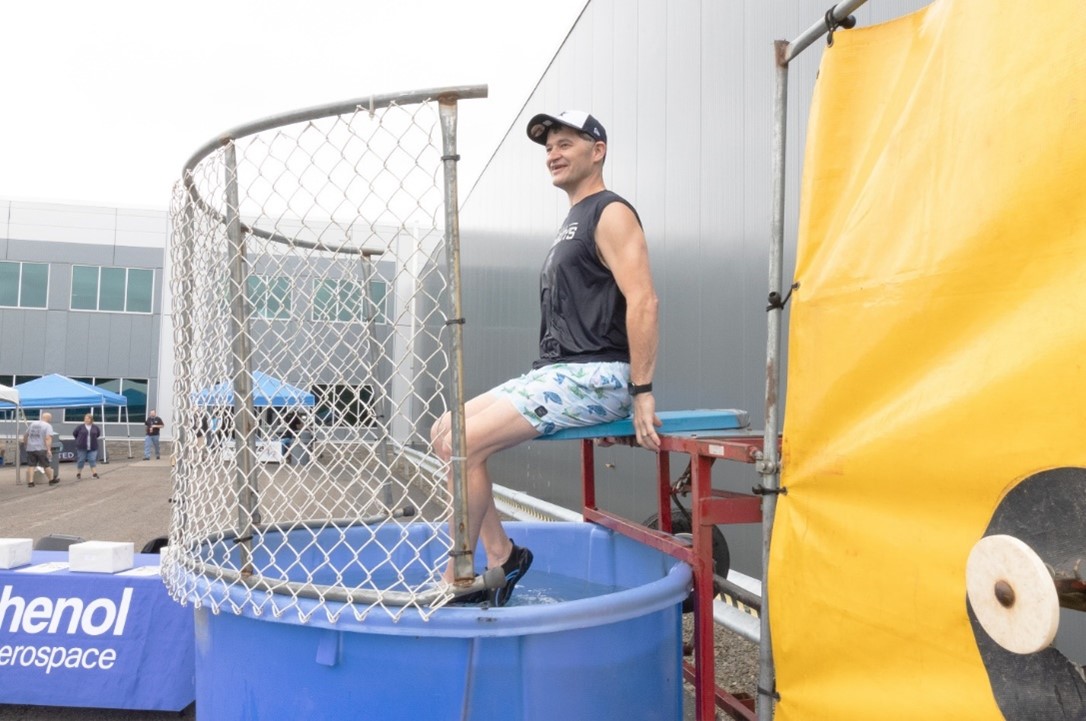 Amphenol Aerospace Director of Operations Jason Youngs prepares to get dunked during Amphenol Aerospace's annual Open House at the company's Sidney, NY facility on Aug. 27.
With attendees paying for the chance to dunk them, Youngs opted to donate his proceeds to Women in Electronics, a nonprofit that seeks to expand opportunities for women in the electronics industry. Sibrava chose to have the proceeds from his dunk donated to Sweet Life Animal Rescue in Morris, NY, while Dix and Weidman chose to have their proceeds donated to Save a Vet, a nonprofit dedicated to rescuing and supporting military and law enforcement working dogs.
A raffle station was another highlight, where attendees could try their luck for a range of prizes. A photo booth was strategically placed, allowing families and friends to take home a snapshot of their day. Props and costumes added a playful touch, making each photo a unique keepsake.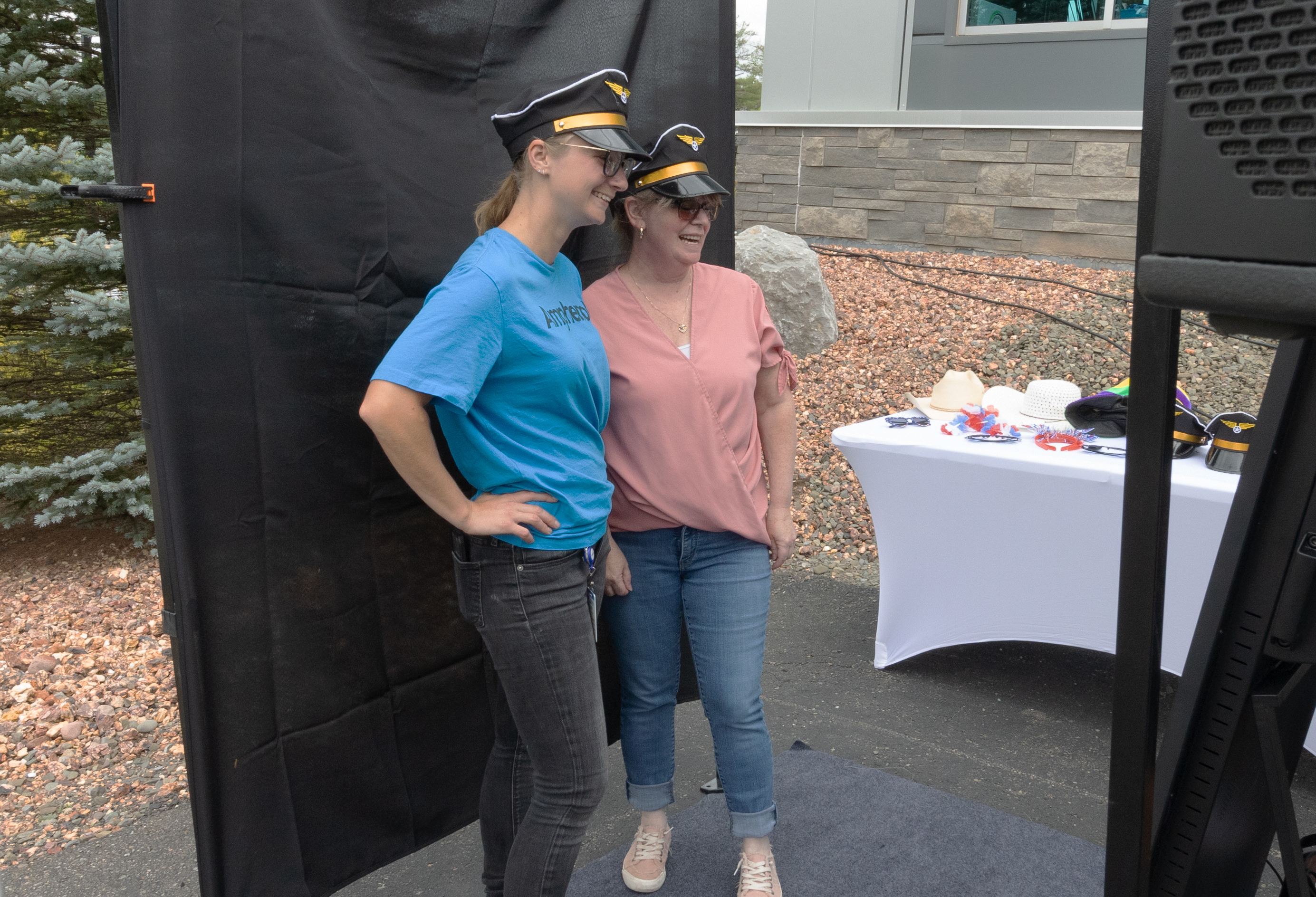 Enjoying the Photo Booth during Amphenol Aerospace's annual Open House at the company's Sidney, NY facility on Aug. 27.
As the day came to a close, it was evident that the annual Open House was more than just a tour of the Amphenol facility; it was a celebration of community and innovation. The Open House served as a testament to Amphenol's commitment to growth and community building. With a 'We Are Hiring' sign prominently displayed, it was clear that Amphenol is not just a company but a growing family, always open to adding new members who share its values and vision.
Continue Reading
---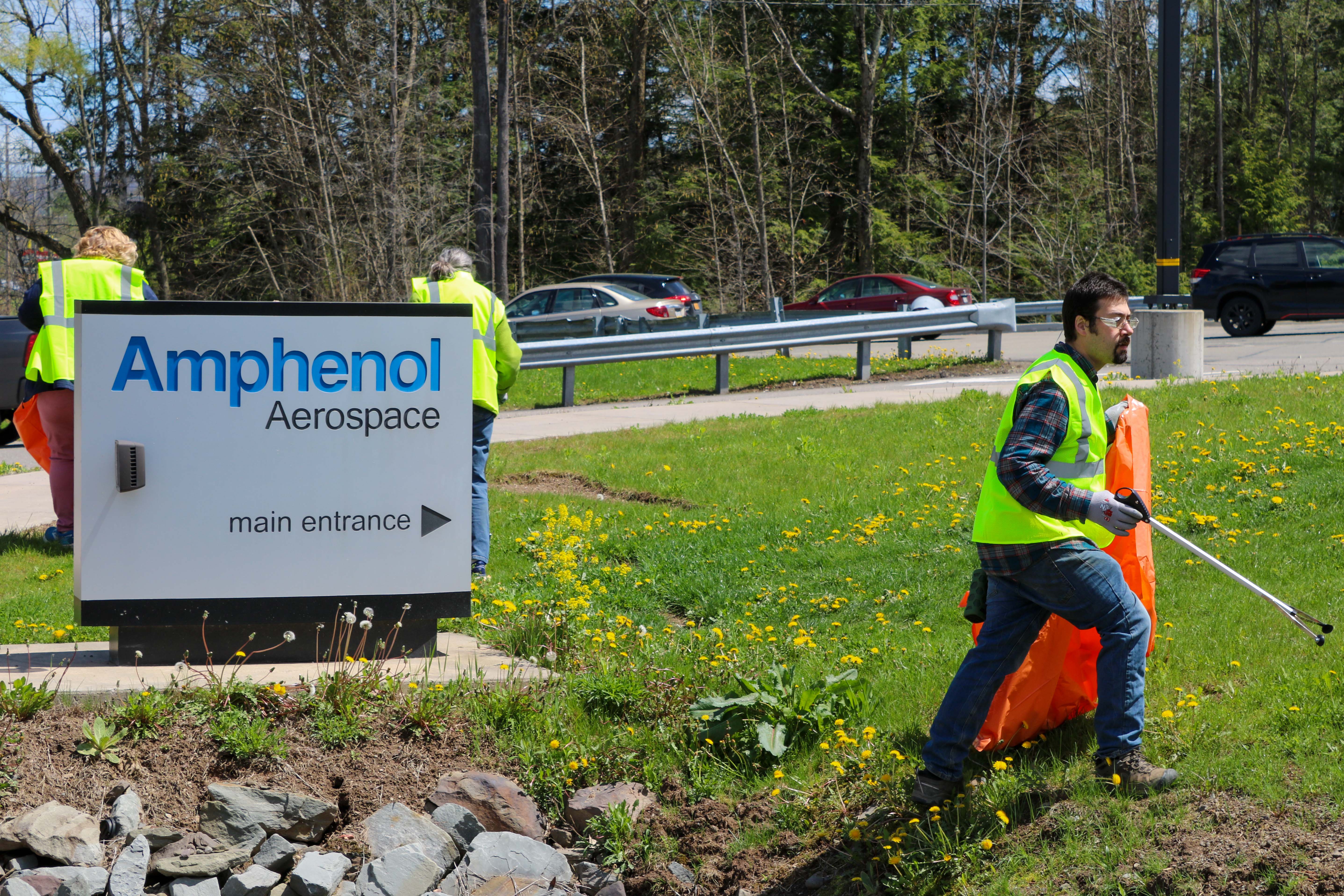 May 07, 2021
Earth Day Cleanup
SIDNEY, NY – Amphenol Aerospace employees participated in the Amphenol Committee for Positive Transformation's (ACT) Earth Day Cleanup yesterday in Sidney, NY. 40 employees spent two hours picking up roadside trash around the Amphenol Aerospace facility resulting in more than 30 garbage bags full of waste.
The event was conceived by the ACT Committee members as a way to honor Earth Day, according to Malisa Bipat, High Speed Solutions Materials Specialist. "We thought of doing something that would not only raise awareness about Earth Day, but also engage our fellow Amphenolians to achieve a notable result." The logical area to clean up was the road leading to the Sidney facility. Said Alyssa Merrill, Rapid Prototyping Engineer, "I think about trash alongside of the road every day when I drive in, and I'm sure many other employees do too. I thought it would be both impactful and personally gratifying for us to be able to make a perceptible difference in the area we commute through, or live in, every day."
Turnout was high for the cleanup event, which pleased the ACT Committee members. Tatum Kiff, Core Products Engineer and ACT Committee member said, "I was very impressed by how many people showed enthusiasm into helping the effort and really showed up to do the dirty work." Said Merrill, "Seeing so many of our people really working at it – all in the middle of the day – was awesome. Whether it was deep in the woods, on the side of the roads, scrambling through ditches, or extracting junk, like old tires embedded in mud, our people put in a great effort."
Ryan Fisher, Amphenol Aerospace's General Manager, sees this as great for the environment and the community. "We strive to be stewards beyond the boundaries of our business and our property. We're part of a tri-town community, and view an improvement in that community as an improvement to our business," said Fisher.
The ACT Committee hopes to host future events like this soon, according to Kiff. "We would love to host more clean ups in the future, especially to accommodate more volunteers and to cover other local areas. Small efforts can make a big change, putting in as little time as an hour or two to clean up the areas we live and work in can really have a positive impact."
Continue Reading
---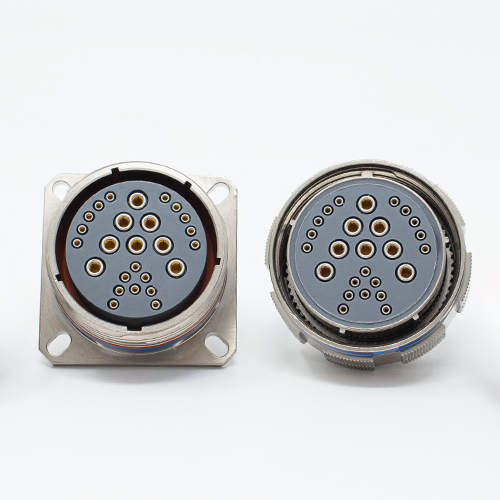 October 12, 2020
Amphenol Unveils New Tracer Rapid Prototyping Tool
Amphenol Aerospace is opening up access to its Proof of Concept Laboratory – and wiring harness and PC board design teams around the world stand to benefit. The POC Lab will allow designers to utilize Amphenol's world-class expertise in cutting-edge interconnect design and additive manufacturing to design and build fully-functional prototypes to test in real applications.
The POC Lab was originally built to provide Amphenol's engineering teams with a way to quickly test their new designs and concepts. The investment into materials research and additive manufacturing technologies will now help customers with precise wiring and board layout requirements. The POC Lab allows them to test their designs with attractive, functional, production-representative I/O interconnects.
Matt Simonds, Proof of Concept Engineering Manager, said, "Years ago, we would steer customers away from using a customized insert pattern because of the cost and lead times. Now, we encourage them to design the connector around their application because we can offer a flexible, iterative path to full-rate production."
"When we set out on this thing, our goal was simple – to come up with a way to help our customers stop compromising on their connectors. Lead times and tooling costs were always prohibitive. Now, we don't have to worry about that," said Anthony Annunziata, Product Line Manager, Military Circulars.
Users can download the Tracer Pattern Design Tool today to start designing your own insert patterns, or contact the Tracer team at TRACER@amphenol-aao.com for more information.
Continue Reading
---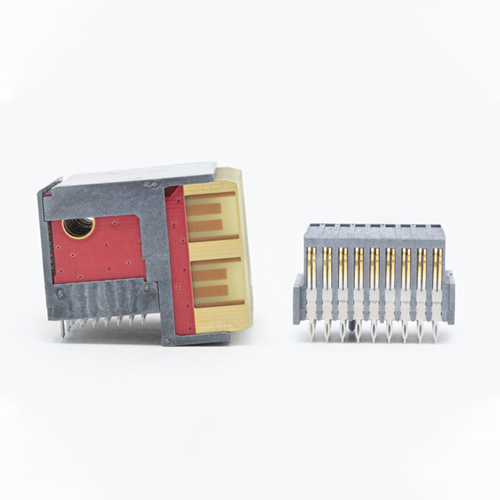 September 23, 2020
R-VPX Evolution 2.0 Fastest VITA 46 Connector in the World
Amphenol Aerospace's new R-VPX Evolution 2.0 connectors are the world's fastest VITA 46.30 connectors, achieving data rates over 32 Gbps while meeting the specification requirements. R-VPX Evolution 2.0 connectors will enable the embedded market to meet and exceed the demanding needs of today's protocols, including 25G Ethernet (100GBASE-KR4) and PCIe Gen 5 (32G).
The changes in R-VPX connector technology has rapidly evolved in recent years, driving demand for higher data rates from copper contact-based connectors, which have typically resided in the 10 & 16 Gbps speed realm. The fastest connector in the market to date is performing to 25 Gbps, but the market demands even faster speeds. Amphenol's new R-VPX Evolution 2.0 connector will deliver these faster speeds as the first and only 32 Gbps+ VITA 46.30 connectors available.
The team from Amphenol Aerospace and Amphenol TCS that developed R-VPX and R-VPX Evolution 1.0 connectors also designed the new R-VPX Evolution 2.0 connectors. They made changes to the proven characteristics from previous designs to enable the speed performance improvement in this new connector series while meeting all of the requirements of the VITA 46.30 specification and maintaining intermateability.
Amphenol Aerospace Board Level Product Manager Catalin Brandas said of the new R-VPX Evolution 2.0 connectors, "We are extremely excited to offer our customers and industry partners this cutting edge VPX connector solution. Designed, developed, and tested to meet all applicable VPX standards, our R-VPX Evolution 2.0 connector line enables our customers to design and develop next generation systems capable of supporting protocols such as 100GBASE-KR4 and PCIe Gen 5. Reaching speeds of 32gbps, this product offers a 20% increase to performance vs. any product in the market, which allows customers and the engineering community to maximize crucial signal margins to ensure the highest levels of performance throughout their system."
Contact Catalin Brandas at (607) 643-5071 or visit the product page for more on R-VPX Evolution 2.0 and other connector products from Amphenol Aerospace.
Continue Reading
---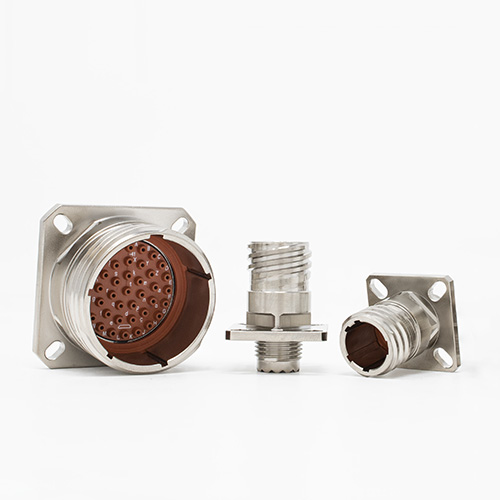 February 28, 2020
Amphenol Aerospace Launches AP-93 Plating, a 1,000 Hour Alt-to-Cad
Amphenol Aerospace announces a new, durable REACH/RoHS compliant plating for aluminum connectors, called AP-93, which outperforms Cadmium and exceeds 1000 hour salt spray requirements. AP-93 is available under the Amphenol D38999 Series III service class designator "DS". It is a conductive finish which meets or exceeds the D38999 Cadmium requirements making it an excellent choice for harsh environments.
Military, commercial, and industrial markets continue to move away from Cadmium due to known toxic carcinogens. The new AP-93 plating finish complies with all customer requirements tied to these specifications. Amphenol is also using European Union Directive 2002/95/EC RoHS as a guide to qualification for all military, commercial, and industrial specifications requiring the reduction or elimination of these restricted materials.
AP-93 is intermateable with Cadmium, making it a drop-in replacement for applications where Cadmium has been a preferred choice. Applications include numerous components of land, sea, air, and weapons systems, as well as space systems, as it provides sacrificial corrosion protection and excellent lubricity for threaded applications.
AP-93 exceeds Olive-Drab Cadmium plating (Class W) by meeting 1000 hours of dynamic salt spray, 500 mating cycles, and meets the millivolt drop shell-to-shell conductivity of nickel (Class F). AP-93 also meets a 200°C temperature rating, is compatible with other platings, and is available on all D38999-style Series III connectors. For specific applications please contact Amphenol Aerospace.
Continue Reading
---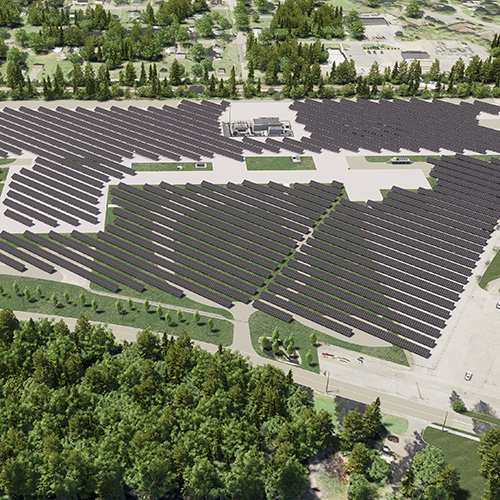 February 01, 2020
Amphenol Aerospace Opens Largest Solar Farm Project in New York State
Amphenol Aerospace completed a multi-million-dollar solar farm at our former facility's site, which is now the largest solar farm project in New York State. The installation covers nearly 23 acres and utilizes over 18,000 solar modules to produce an estimated 7,540 MWh of power per year. In addition, Amphenol's parts were used in as many of the electrical components as possible, including the inverters that convert the solar DC electricity to AC currents. Power generated by the solar farm will provide the grid with the energy equivalent of 800 homes annually, promoting the stability of the region's electrical supply and, in turn, Amphenol's manufacturing operations.
Catastrophic flooding in 2006 and 2011 disrupted our business, upended the lives of our employees and many of their families and neighbors and resulted in tens of millions of dollars in damages to Amphenol Aerospace's manufacturing facilities in Sidney, New York. Following the flooding, Amphenol sought a long-term solution to reduce the risk of flooding at the site. While many companies would have established manufacturing operations elsewhere, Amphenol's long-standing relationship with the community and knowledge that closing the facility would damage the local economy pushed us to find a solution that would allow us to stay. Working closely with local, state and federal governments, Amphenol designed and built a new 307,000 square foot state-of-the-art manufacturing facility down the road and up the hill from our former site and in the process retained all of the more than 1,000 jobs in Sidney.
Continue Reading
---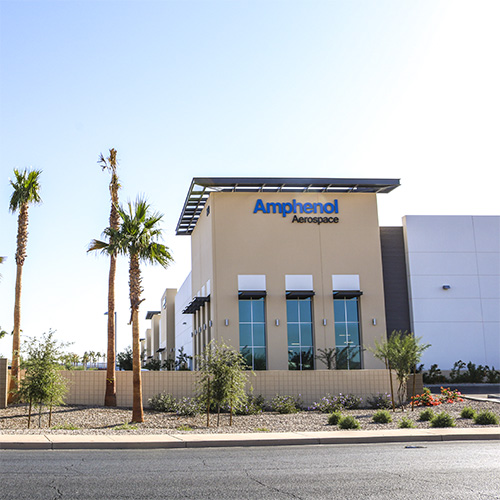 December 20, 2019
Amphenol Aerospace Opens New Manufacturing and Design Facility in Arizona
Amphenol Aerospace recently opened their newest manufacturing and design facility in Mesa, AZ. The new 50,000 sq. ft. facility expands the operational capacity and provides a center of excellence for Amphenol Aerospace in the Western U.S. The facility will provide capabilities for the Filter and High Speed Business units, along with advanced contact automation to support all business units. This location will also serve as a technical hub for automation to support both the Mesa and Nogales, MX facilities.
Ryan Fisher, General Manager of Amphenol Aerospace said, "During uncertain times and faced with challenges to global supply chains, proximity and mitigation are increasingly important to our customers. Mesa presents us with an incredible opportunity to partner with a dynamic local workforce, bring our capabilities closer to our west coast customers, and add domestic qualifications to mitigate against future risks. This project once again shows the entrepreneurial and long-term vision that Amphenol promotes, making us the clear choice regardless of the environment. I'm so proud of the whole team for making it happen.
Continue Reading
Showing 1 to 7 of 7 items