Electric Mobility Solutions
---
Electric Mobility
Amphenol offers industry-leading interconnect systems optimal for battery powered, electric powertrain vehicles for manufacturers pivoting toward EV infrastructure and electric mobility vehicles. The electrification of air systems and automobiles is not an idealistic technology of the future anymore; it's here now.
Next-Generation Ground Combat Vehicles
Whether it's ground combat vehicles within the Next Generation Combat Vehicle (NGCV) family such as the Optionally Manned Fighting Vehicle (OMFV), air vehicles such as electric vertical take-off and landing (eVTOL) systems, or the hybrid electric Joint Light Tactical Vehicle (eJLTV), the internal combustion engine continues to be phased out in favor of electric propulsion.
Electric aircraft technology is promising. But ground EVs are expected to make the biggest inroads in the near future, particularly military electric vehicles. Various militaries around the world have begun to invest in new electric and hybrid ground combat vehicle fleets, including pushing to retrofit existing internal combustion vehicles into hybrids.
And it's not just powertrains that are changing; military ground combat vehicle cabins continue to be outfitted with further capabilities. The addition of onboard computer systems, advanced sensors, and more is transforming standard tactical vehicles into mobile command centers.
The technology is moving fast. Amphenol offers reliable, high-powered connectors for manufacturers seeking electric mobility solutions as this crucial innovation in transportation technology continues to evolve.
EV Mobility Solutions require a Fast Charger
One of the central problems facing the mainstream adoption of EVs is the time it takes to charge them.
Current battery technology typically requires several hours to charge a standard multi-passenger electric vehicle without at least 40kw of power. This requirement is even higher for electric air systems and more energy-intensive ground combat vehicles. This means high voltage charging systems are essential for the development of fast charging technology.
Amphenol offers several high amp and high voltage connectors capable of megawatt charging applications such as the Voltarius high voltage 38999 interconnect, rated at 1,000 volts per direct current at sea level.
Electric Vehicle Safety
The immense power required to operate and charge electric vehicles requires safety considerations. One of the ways Amphenol connectors emphasize safety is by utilizing deeper pins that interlock deeper with the receptacle. This means electric currents must travel a greater distance before they can cause a corona discharge, an important safety feature for high-power applications such as eVTOL aircraft.

Air Mobility
Electric air vehicles are the next major innovation in air mobility, and eVTOL aircraft are leading the way. Utilizing features such as vectored thrust, tandem wings and advanced multicopter designs, these revolutionary aircraft have unique electrical assemblies and power requirements perfectly tailored for Amphenol's suite of interconnect systems.
We are at the onset of the electrification of everything, and a lot of power and voltage is required to achieve it. Engineered to accommodate high currents and amperes, Amphenol Aerospace power solutions play a pivotal role in enabling the electrification of vehicles, infrastructure, and beyond.
Electric Mobility Solutions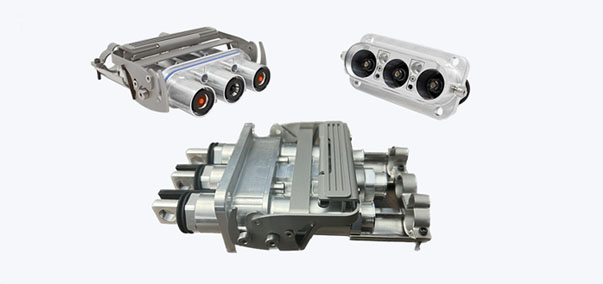 Voltarius
Voltarius is a high-power interconnect system optimized for high voltage applications, with performance up to 1000Vdc and 450A along with essential safety features.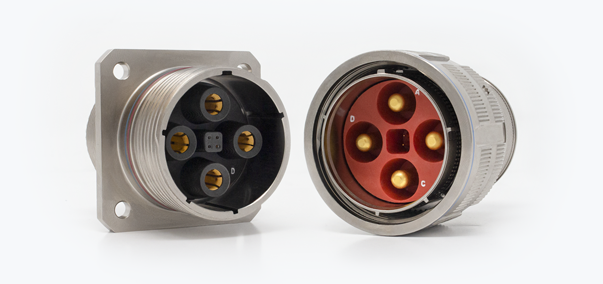 High Voltage 38999
An expansion of the MIL-DTL-38999 series to provide solutions for next-generation power requirements.
High Power Connectors
High Voltage Connectors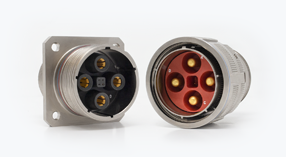 High Voltage 38999
An expansion of the MIL-DTL-38999 series to provide solutions for next-generation power requirements.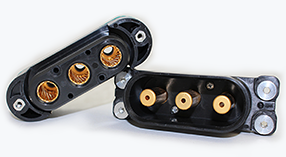 HVDC
HVDC is a low mating force, high mating cycle connector that achieves enhanced performance due to multiple points of contact vs. standard 2 or 4 tine contacts.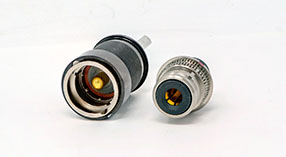 Ram-Lock with High Power Contacts
Amphenol's Single Pole Ram-Lock connector is a ruggedized push-pull connector designed for applications up to 500 °F (260 °C)
High Power Contacts