About

Amphenol Aerospace, a Division of Amphenol Corporation, is one of the largest manufacturers of interconnect products in the world for the Military, Commercial Aerospace and Industrial markets.
Amphenol designs, manufactures and markets cylindrical and rectangular, electronic, fiber optic, EMI/EMP filter, and a variety of special applications connectors and interconnect systems. Our new 307,000 square foot facility is nestled at the foothills of the Catskill Mountains in Sidney NY. The complex houses approximately 1,000 employees, incorporating state-of-the-art manufacturing technologies including CNC machining, die-casting, molding, impact and extruding, plating, screw machining and process controls. Our fully equipped material evaluation lab and an engineering support organization utilizing the latest in computer aided design software and analysis tools. This allows us to design, test and qualify interconnect systems.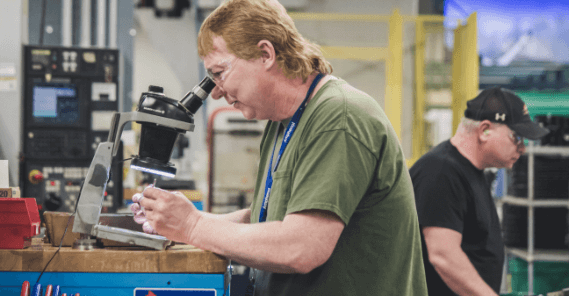 We completed a multi-million-dollar solar farm at our former facility's site, which is now the largest solar farm project in New York State.
The installation covers nearly 23 acres and utilizes over 18,000 solar modules to produce an estimated 7,540 MWh of power per year. In addition, Amphenol's parts were used in as many of the electrical components as possible, including the inverters that convert the solar DC electricity to AC currents. Power generated by the solar farm will provide the grid with the energy equivalent of 800 homes annually, promoting the stability of the region's electrical supply and, in turn, Amphenol's manufacturing operations.
Our newest facility is located in Mesa, AZ.
Starting in 2020, we expanded our operational capacity with a new 73,000 sq. ft. facility in Mesa AZ. This will provide operational capabilities for our Filter and High Speed Business units, along with advanced contact automation to support all business units. This location will also serve as a technical hub for automation to support both the Mesa and Nogales facilities.