News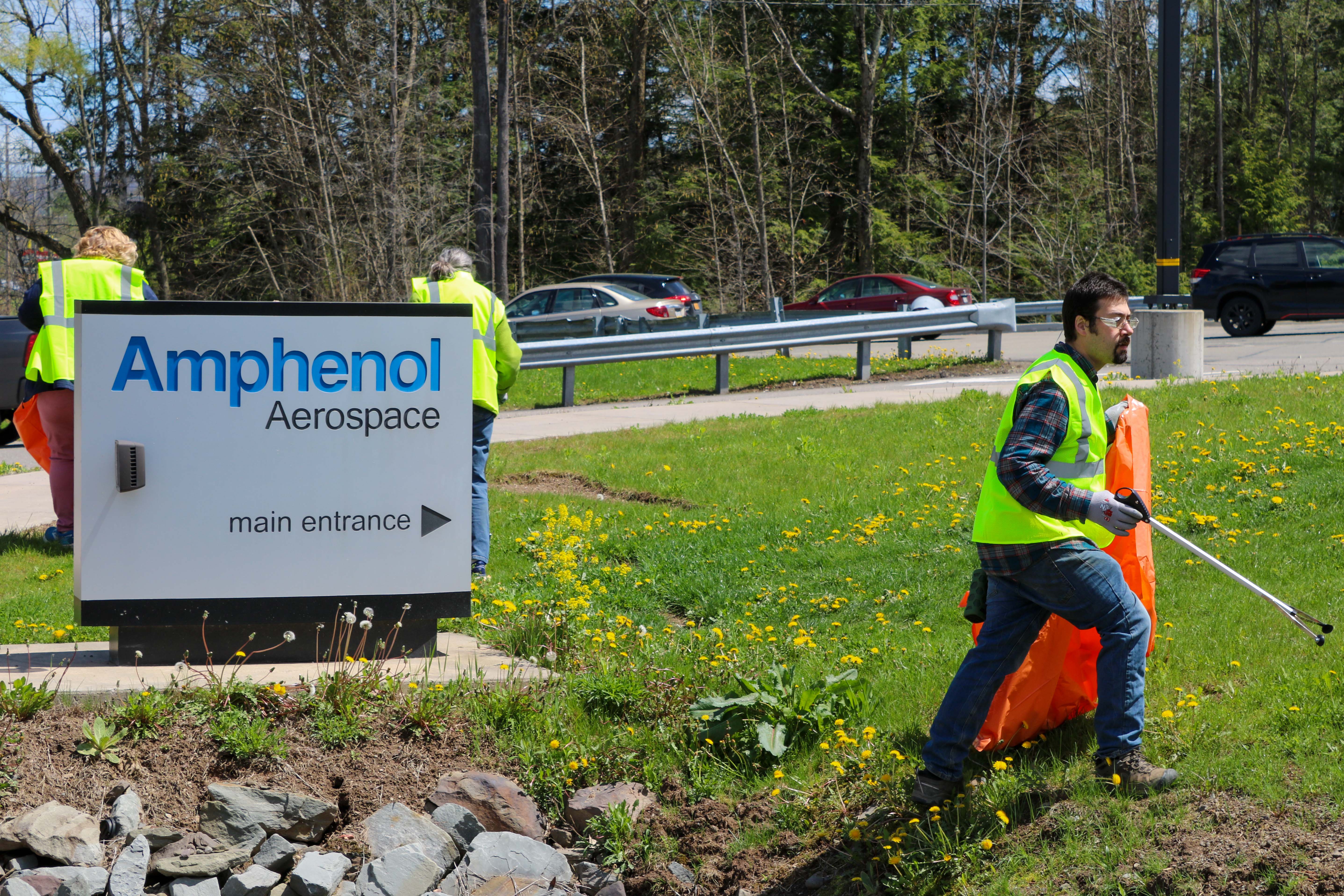 May 07, 2021
Earth Day Cleanup
SIDNEY, NY – Amphenol Aerospace employees participated in the Amphenol Committee for Positive Transformation's (ACT) Earth Day Cleanup yesterday in Sidney, NY. 40 employees spent two hours picking up roadside trash around the Amphenol Aerospace facility resulting in more than 30 garbage bags full of waste.
The event was conceived by the ACT Committee members as a way to honor Earth Day, according to Malisa Bipat, High Speed Solutions Materials Specialist. "We thought of doing something that would not only raise awareness about Earth Day, but also engage our fellow Amphenolians to achieve a notable result." The logical area to clean up was the road leading to the Sidney facility. Said Alyssa Merrill, Rapid Prototyping Engineer, "I think about trash alongside of the road every day when I drive in, and I'm sure many other employees do too. I thought it would be both impactful and personally gratifying for us to be able to make a perceptible difference in the area we commute through, or live in, every day."
Turnout was high for the cleanup event, which pleased the ACT Committee members. Tatum Kiff, Core Products Engineer and ACT Committee member said, "I was very impressed by how many people showed enthusiasm into helping the effort and really showed up to do the dirty work." Said Merrill, "Seeing so many of our people really working at it – all in the middle of the day – was awesome. Whether it was deep in the woods, on the side of the roads, scrambling through ditches, or extracting junk, like old tires embedded in mud, our people put in a great effort."
Ryan Fisher, Amphenol Aerospace's General Manager, sees this as great for the environment and the community. "We strive to be stewards beyond the boundaries of our business and our property. We're part of a tri-town community, and view an improvement in that community as an improvement to our business," said Fisher.
The ACT Committee hopes to host future events like this soon, according to Kiff. "We would love to host more clean ups in the future, especially to accommodate more volunteers and to cover other local areas. Small efforts can make a big change, putting in as little time as an hour or two to clean up the areas we live and work in can really have a positive impact."