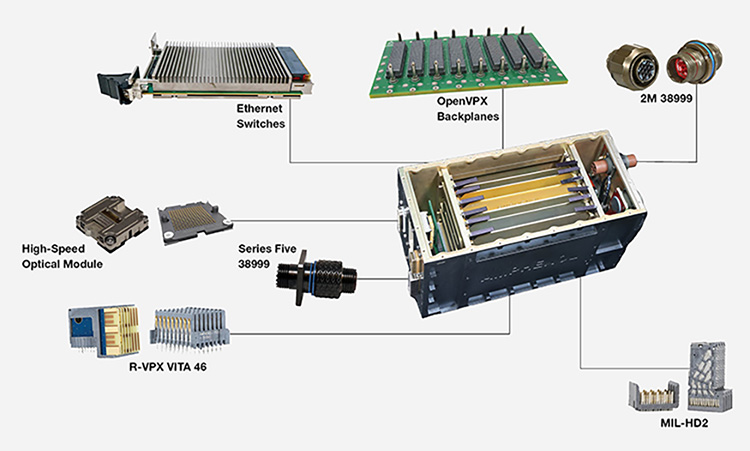 In addition to our Integrated Solutions and High-Speed Connector portfolio, Amphenol Aerospace offers a variety of Commercial Off-The-Shelf (COTS) interconnect components that align with open standards within the Modular Open Systems Approach (MOSA) umbrella.
From crewed and uncrewed to autonomous platforms, there are a host of exciting military and aerospace systems under development that are expected to push technological boundaries in the coming decades.
New, cutting-edge C5ISR technologies and innovative future vehicle platforms such as the Next Generation Combat Vehicle (NGCV) and Next Generation Air Dominance (NGAD) programs are poised to revolutionize the battlespace in the near and distant future. However, technological advancements on this scale often come with cost and complexity.
That's where the Modular Open Systems Approach (MOSA) comes in ‒ an approach to defense technology development primed to dominate the R&D process and save developers vast amounts of time, money, and headaches.
What is MOSA?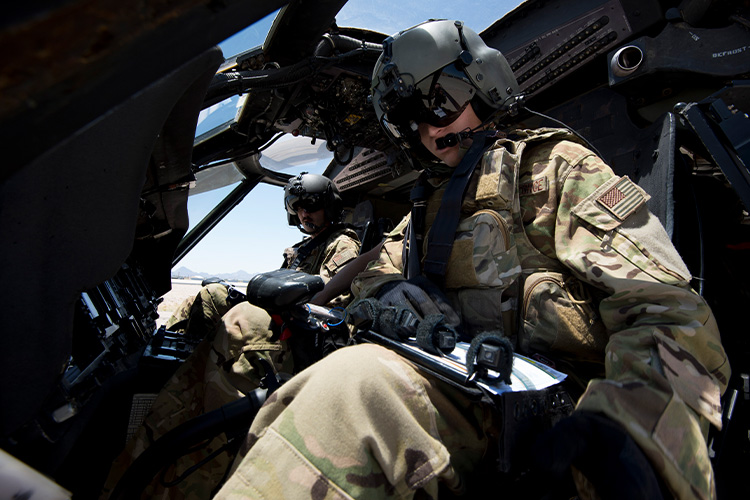 The Modular Open Systems Approach (MOSA) is a methodology in military and aerospace development that emphasizes the design and implementation of systems with interchangeable and modular components, with an emphasis on commercial off-the-shelf (COTS) products. MOSA is crucial for the future of military and aerospace development due to its ability to enhance flexibility, interoperability, and cost-effectiveness in the creation and maintenance of complex military and aerospace systems.
The benefits of standardizing modular, open architectures in defense technology development began to be touted in the late 2000s. By 2016, Congress mandated that all major defense acquisition programs in the U.S. incorporate MOSA principles into their design process.
Within the MOSA umbrella is a family of open standards with development guidelines for various features of modern military and aerospace systems. Some of these open standards include Sensor Open System Architecture (SOSA), Weapon Open System Architecture (WOSA), C5ISR Module Open Suite of Standards (CMOSS), and Generic Vehicle Architecture (GVA), among others.
What does MOSA implementation look like in practice?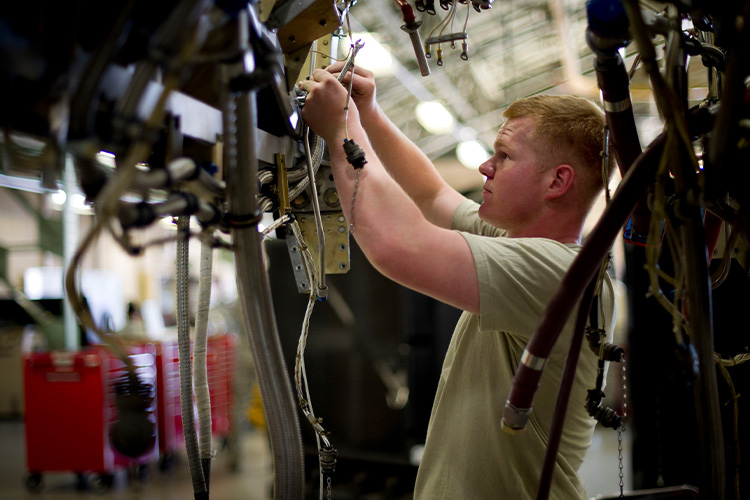 Imagine a scenario where a developer is looking to upgrade the avionics system of an aging fleet of fighter jets. These jets have been in service for several decades, and their existing avionics systems are becoming obsolete and difficult to maintain.
By embracing MOSA principles, the developers specify open standards, foster a vendor ecosystem, and design a modular system with clear interface standards. The developer may prioritize designing the new avionics system as an assortment of smaller, interchangeable modules or components. For example, radar, communication systems, navigation systems, and electronic warfare capabilities could be separate, interoperable modules.
Taking the MOSA approach in this example allows for seamless integration of new avionics modules, which reduces costs, promotes interoperability, and extends the jets' operational lifespan. With MOSA, developers can more easily adapt mission-critical systems to evolving threats and technological advancements, ensuring these systems remain flexible and cost-effective.
While MOSA can enable aging systems to maintain operability and keep up with new technological trends in a more cost-effective and efficient manner, MOSA is also going to redefine how new military and aerospace systems are developed.
Shaping future military and aerospace systems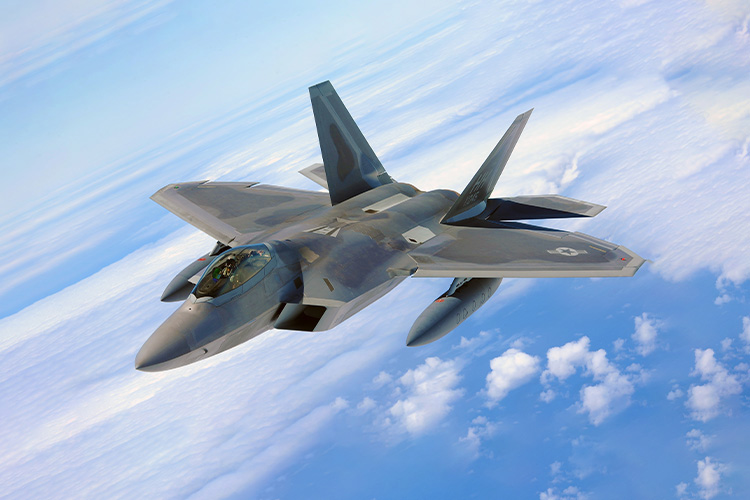 While it currently represents the best in air superiority technology, the venerable fifth-generation F-22 Raptor is slated to be replaced by the Next Generation Air Dominance Program (NGAD) fighter. MOSA is poised to play a major role in the NGAD program's development.
The U.S. Army's Next Generation Combat Vehicle (NGCV) initiative is a program to upgrade the force with several new combat vehicle platforms. To develop these vehicles, the NGCV program is utilizing and embracing MOSA principles in a significant way.
One of the main priorities of NGCV is the development of a new infantry fighting vehicle known as the Optionally Manned Fighting Vehicle (OMFV). The OMFV, which was recently redesignated as the XM-30 Mechanized Infantry Combat Vehicle, is the Army's planned replacement for the Bradley Fighting Vehicle, which has been a core tenet of American armored capabilities for more than 40 years.
While prototypes for the XM-30 are still in the design phase from developers General Dynamics Land Systems (GDLS) and American Rheinmetall, MOSA-aligned development will allow for rapid upgrades and technology refresh for quick insertion of new innovations or to counter emerging threats throughout the lifespan of the platform.
Other programs on the horizon in the NGCV portfolio, including the Armored Multi-Purpose Vehicle (AMPV) (planned replacement for the M-113 Armored Personnel Carrier that's been in service since the 1960s), the unmanned Robotic Combat Vehicle (RCV), and others, will also presumably be developed with MOSA in mind.
Next Generation Air Dominance (NGAD) is another exciting program on the horizon that is expected to rely heavily on MOSA protocols for its development, operation, and maintenance. Slated to replace the U.S. Air Force's F-22 Raptor fifth-generation fighter, the sixth-generation NGAD fighter is to be developed with the latest in stealth, weapons, and aerospace technology. Leveraging open systems is going to be critical to its development.
Amphenol Integrated Solutions for MOSA-aligned development
Amphenol's Rugged 120 Channel Ethernet Switch Box provides an unmatched level of flexibility to meet any system requirement. The switch box is a 120-port standalone Ethernet Switch box that is configurable for system connectivity, speeds, port types, and interoperation with various high-speed media converters and connectors for system interfacing.
Amphenol Aerospace's portfolio of Integrated Solutions is a cutting-edge collection of rugged and reliable media converters, ethernet switches, optical transceivers, and high-density connectors that are aligned with open architectures within the MOSA umbrella such as SOSA, VPX, and OpenVPX.
Our robust media converters are tailored to work across multiple protocols, including Ethernet, copper-to-fiber conversion, data concentrators, and various forms of video from DVI to HDMI. Our evolving line of rugged Ethernet switches caters to increased demand for higher speeds and channel capacity, while our optical transceiver options are tailored for ultra-fast data transmission and reception in rugged fiber optic systems.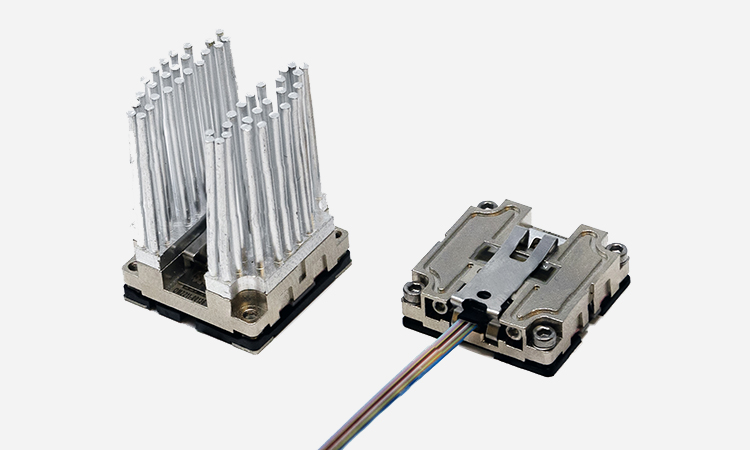 The LEAP® On-Board Transceiver is a rugged 12-channel duplex optical transceiver capable of achieving data rates of up to 28.05Gbps per channel, up to 300Gbps in total when considering all channels. This high-speed fiber optic transceiver is optimized for multi-mode fiber at 850nm and operates effectively in a wide range of conditions. Base transceiver with fiber optic cable (right), with heatsink (left).
Amphenol's Optical Transceivers set the standard in high-speed data transmission with speeds ranging from 25 Mbps to 50 Gbps. Designed to withstand rugged conditions, these small form factor devices are ideal for fiber optic systems across multiple channels. They're engineered for compliance with VITA and SOSA-aligned systems, ensuring relevancy with a myriad of applications. Primarily targeted at military, aerospace, and defense markets, these transceivers offer a powerful, compact solution to SWaP-C constraints.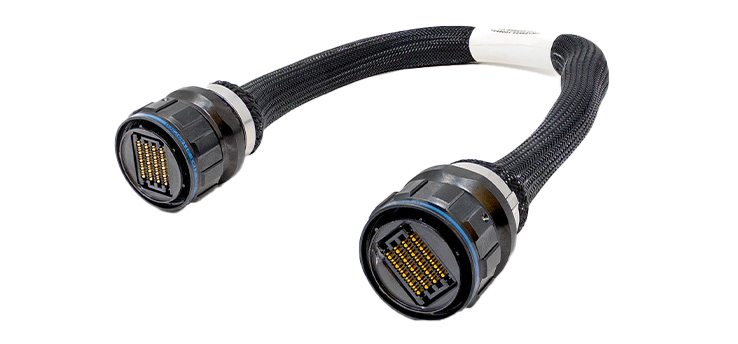 Amphenol's Centaur interconnect utilizes the advantages of our extensive legacy of Mil-Spec connectors and the latest in high-speed contact and connector technology.
Building off our rich legacy in D38999 connectors, our high-speed and high-density Centaur hybrid connector and cable assembly series combines proven D38999 technology with leading high-speed capabilities. This hybrid interconnect is also available in PCB or Solder Tail configurations.
The Amphenol Aerospace Integrated Solutions portfolio leverages the latest in high-speed technology and connectivity to create superior interconnect products finely tuned to match your application's requirements. Amphenol also offers a variety of industry-leading COTS interconnect products designed and optimized for rugged assemblies and subassemblies, including our VITA-compliant and SOSA-aligned high-density and board-level interconnect solutions.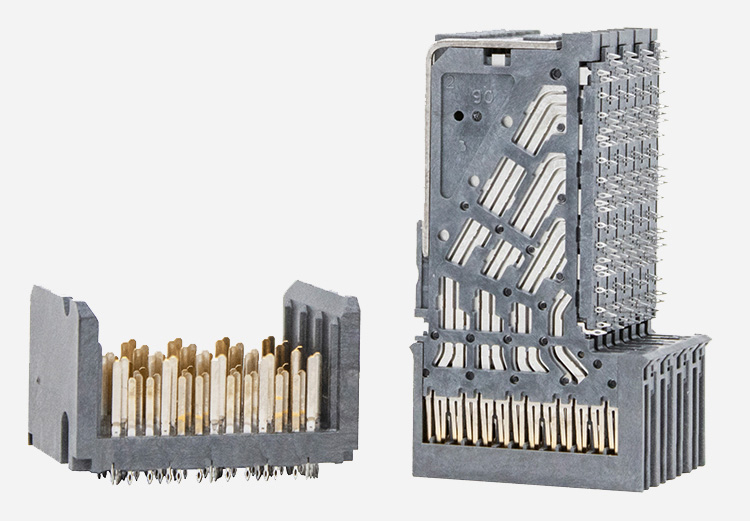 Developed in alignment with The Open Group Sensor Open Systems Architecture™ (SOSA) technical standard, MIL-HD2 provides developers with a readily available, robust open architecture solution for tighter card pitches and chassis designs where space requirements and density are critical.
The MIL-HD2 is a next-gen SOSA™/VITA 91 aligned connector series offering superior performance for military, aerospace, and defense applications. It's distinguished by its high-density 1.80mm pitch and 4 diff, 8 column SOSA-aligned configuration. Capable of scaling to 56Gb/s PAM4 speeds, it ensures seamless system upgrades without pricey redesigns. Features like optimized footprints, a 15.7mil drill-compliant pin, proprietary crosstalk reduction technology, and shielded contacts make it the ideal solution for high-density data interconnect systems.

Amphenol's R-VPX VITA 46 Connector System is a ruggedized, high-speed, board-to-board interconnect system capable of data rate speeds of more than 10 Gb/s, meeting and exceeding VITA 46 standards.
The R-VPX VITA 46 Connector System is a versatile solution for both military and commercial aerospace applications. This reliable product meets and surpasses VITA 47 standards and is compatible with existing VITA 46 connectors. With a modular design, it offers low mating force and supports 0.8 inch card slot pitches. Capable of handling up to 140 signals per inch and a contact current rating of 1.5 Amps, it excels in demanding conditions. The R-VPX VITA 46 has passed VITA 72 vibration level testing, proving its robustness in harsh environments.
For more information, visit: