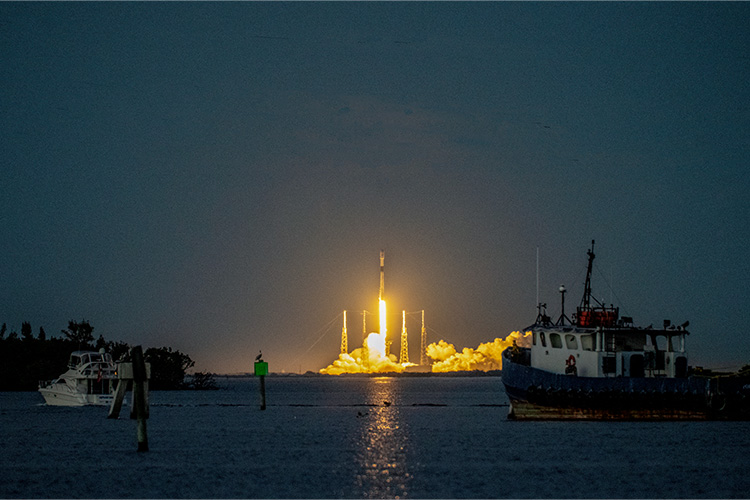 A SpaceX Falcon 9 rocket launches from Florida carrying an Italian COSMO-SkyMed 2nd Generation Satellite in Jan. 2022. [STOCK IMAGE]
On May 19, 2023, SpaceX conducted its latest launch supporting the Starlink satellite internet network when a Falcon 9 rocket deployed 56 Starlink satellites into low Earth orbit.
This latest salvo of satellites was the company's fourth Starlink satellite deployment in May. There are now more than 4,000 Starlink satellites in LEO space providing internet service around the world.
Starlink constellation satellites are krypton-fueled Hall thruster small satellites that carry a communications payload using the Ku and Ka frequency bands and weigh about 260 kg each. They are an example of the trend in satellite technology toward utilizing smaller, lighter satellites to accomplish mission goals.
This trend toward small satellites, or smallsats, has opened new opportunities for scientific research, Earth observation, telecommunications, and commercial applications in space, making space more accessible than before.
Small satellites have surged in the last decade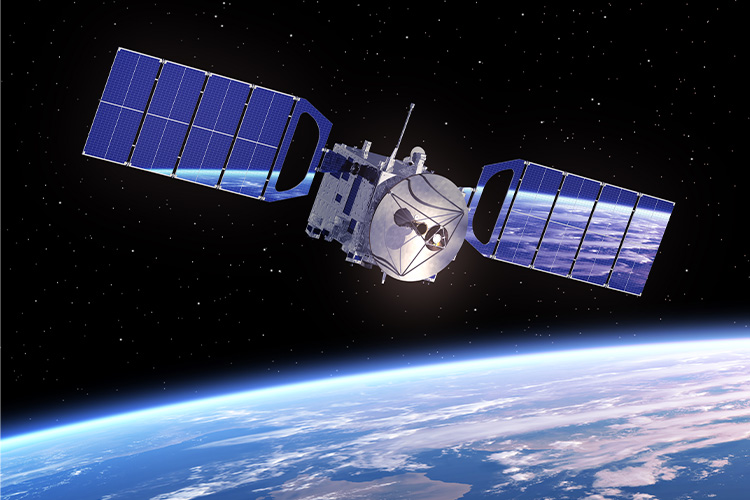 From 2012-2021, just 16% of the total upmass – or the gross weight of all payloads launched into space – consisted of small satellites and nanosatellites. Smallsats and nanosats are typically defined as weighing less than 500kg and 10kg, respectively.
In 2021, these satellites accounted for more than 90% of all satellites launched and constituted more than 40% of the total upmass for that year.
This is a major shift, and rapid technological advancements in satellite systems and subsystems and the components that make up those systems have played a major role in this.
Satellite miniaturization has progressed substantially in recent years as electronic components have become smaller and more powerful. Improvements and size reductions in sensors, processors, communication and interconnect systems have been instrumental in these advancements.
High-performance, low-power microprocessors and memory devices enable onboard data processing and storage capabilities. Enhanced power management systems and energy-efficient components allow for extended mission durations and improved functionality.
There are several other key reasons for this transition in the satellite industry, including:
Cost: Smaller and lighter satellites are cheaper to build and launch compared to heavier satellites. This cost efficiency has only been made better as the cost to launch a pound of payload into space has steadily decreased in the last 10 years or so from around $30,000 per pound with the Space Shuttle program to around $5,000-$10,000 per pound. As a result, satellites have become much more accessible to both countries and organizations.
With their compact size and lower mass, smallsats require less expensive launch vehicles and can be deployed as secondary payloads on larger missions. Furthermore, the use of commercial off-the-shelf (COTS) components, standardized interfaces, and streamlined manufacturing processes has led to cost savings throughout the development and deployment phases.
Weight savings: The weight savings offered by smallsats have played a pivotal role in their widespread adoption. While heavier satellites require larger and more expensive rockets, smallsats can be launched using smaller and cheaper rockets which can significantly reduce the overall cost of a space mission.
Improved Launch Systems: The emergence of dedicated smallsat launch vehicles and rideshare opportunities has lowered the barriers to access space. Launch providers have developed cost-effective solutions for deploying smallsats into orbit, allowing for more frequent and affordable access to space for small satellite developers.
Satellite Swarms and Formation Flying: Smallsat constellations and formation flying missions have gained prominence. Advances in guidance, navigation, and control systems enable coordinated operations of multiple smallsats, leading to improved data collection, coverage, and collaborative missions.
Interconnect components in small satellite systems must be light and compact. They must be optimized for weight and size while also maintaining their ability to withstand the extremely harsh environments of space.
The pinnacle of lightweight, ruggedized circular connectors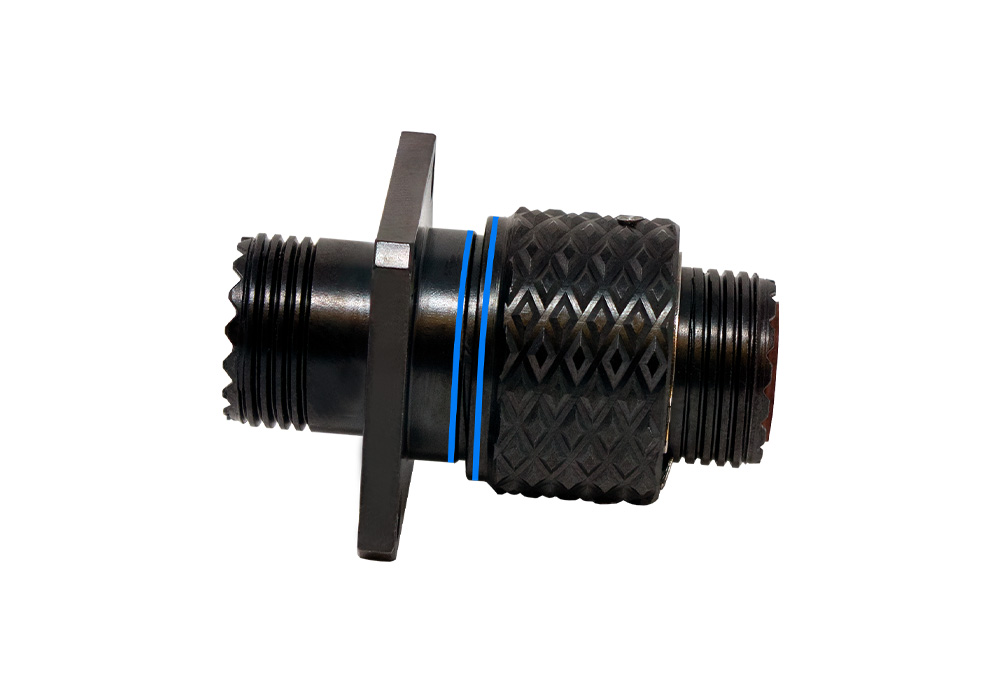 Amphenol Aerospace Series Five connectors expand upon the classic MTL-DTL-38999 series of circular connectors.
Amphenol Aerospace Series Five connectors are the apex in the evolution of the MIL-DTL-38999 series of circular connectors. Series Five has roots stemming from the MIL-DTL-38999 Series I, II and III ruggedized connectors that were first developed throughout the 1960s and 1970s and incorporates the reduced weight savings and dimensions required for modern harsh-environment applications.
At 25-50% lighter and 20% smaller than a D38999 Series III, the Series Five is the optimal interconnect solution for satellites and space applications where weight and space are constrained.
38999-Qualified Insulator and EMI Spring
No Dielectric Bond Joint
Triple Wire Seal
AS39029-Qualified Gold-Plated Contacts
Full Metal Clip Contact Retention
Standard Accessory Thread
Radial Interfacial Seal
"Diamond-Grip" Nut Design
Scoop Proof
No-Mess Dry Film Thread Lubricant
Optimized Ratcheting Torque
"No-Slop" Tolerance Interface
Quick Coupling Double Start Thread
Series Five connectors are available in several configurations. One such configuration is Amphenol Aerospace's High Temperature Series Five, which is designed with high-heat materials and can withstand extremely hot temperatures while sustaining a ruggedized connection. These specialty interconnects are optimal for use near engines, firewalls, and other sources of extreme heat.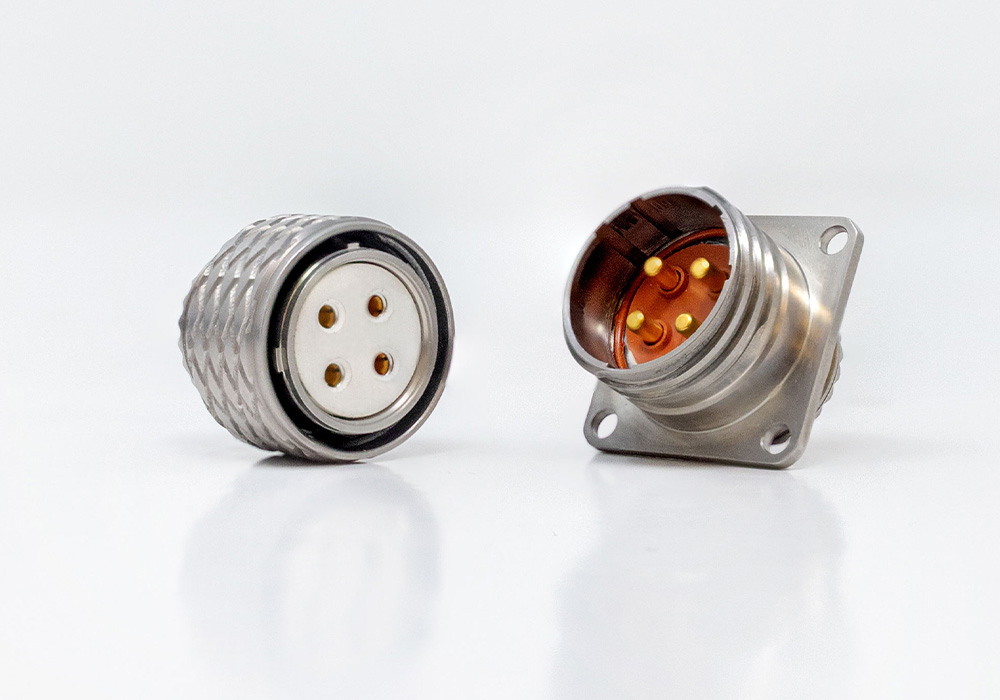 Amphenol Aerospace High Temperature Series Five connectors are ideal for maintaining ruggedized connections in high-heat environments.
Withstands exposure at 300°C for up to 24 hours,
260°C continuous duty
Improved resistance to cryogenic environments
Utilizes Temper-Grip socket contacts
Nickel contacts available with thick gold plating
One-piece alumina ceramic inserts and hightemperature elastomer seals
Exceeds firewall performance of MIL-DTL-39999 connectors, up to 45 minutes and up to 2,200°F
Available in stainless steel and titanium shells
20% smaller and up to 50% lighter than comparable
D38999 connectors
Visit the Series V Lightweight Military Connectors and High Temperature Series Five product pages for more information.