Optical Sub-Assembly Based Media Converters Using Quadrax
Description:
CTF-Quadrax technology is the embedding of a transmit or recieve optical subassembly into a Quadrax contact. Quadrax is a size 8 keyed contact with 4 or 8 pins used in high speed copper signaling applications. The embedding of a TOSA/TOSA into this component provides the ability to utilize a Quadrax connector for media converter applications. ROSA/TOSA components are available in all major fiber protocols to include 850nm multi-mode, 1300nm multi-mode (typically used in 100-Base-FX applications), 1310nm single mode, and other varieties for support of a plethora of interfaces customers are utilizing in platforms and systems.
Features & Benefits:
Utilizes our embedded Quadrax optical sub assembly technology
Shell Sizes 25 - 8 cavities; 23-6; 19-4; 17-2; 9-1
Samtec HQDP style ribbon - straight/right angle mount/shielded
Multiple copper/fiber protocols available

Ethernet copper - Ex: SGMII,100/1000-Base-KX, XAUI
Ethernet fiber - Ex: 100-Base-FX, 1000-Base-LX/EX/SX
Others - Ex: DVI, PCI-Express, Fiber Channel, SDI, HD-SDI, 3G-HD-SDI, Other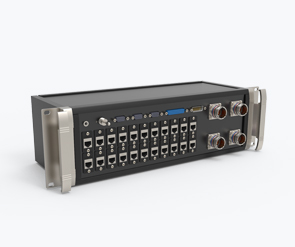 Rugged Junction Boxes
Ethernet junction boxes for rugged military and other harsh environment applications, featuring a wide range of Amphenol D38999 connectors.