Rugged Copper to Fiber Media Converter
Description:
Amphenol's Rugged Copper to Fiber Media Converter utilizes our trusted 38999 connectors paired with a Samtec ribbon in order to bring applications an optical fiber link distance to 10km. This media converter can be used in harsh environment avionics, ground systems, or naval applications.
Features & Benefits:
Eliminates Need for Additional Accessory
Gigabit Ethernet
Optical Fiber Link Distances to 10km
Maximum Optical Channel Bit Error Rate
Less Than 10x10
Uses Industry Standard M29504 Fiber
Termini Interface
Low Profile, High Speed Connector
Flexible Ribbon Cable
Natural convection cooled (no fan)
Operational temperature
-40°C to +85°C
Refer to page 3 for additional details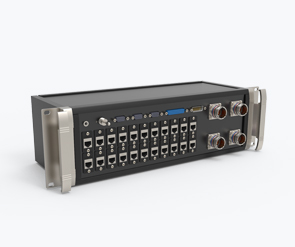 Rugged Junction Boxes
Ethernet junction boxes for rugged military and other harsh environment applications, featuring a wide range of Amphenol D38999 connectors.