D38999 Series III Corrosion Ingress Seal
Description:
Amphenol Aerospace has developed a new Corrosion Ingress Seal for D38999 Series III-style plug connectors which will significantly increase mated pair protection against salt spray and corrosive atmospheres. The new, patent-pending "wiper design" seal fits in a D38999 Series III coupling nut while still allowing standard intermateability with the receptacle.
Early testing has indicated the new Corrosion Ingress Seal can have up to 10X the protection against D38999-specified salt spray -- from 48 hours to 480 -- while still maintaining shell-to-shell conductivity and EMI functionality. The new seal provides greater protection to the functional portion of the mating threads, allowing the mated connectors to perform longer in highly corrosive environments and areas with significant water ingress. Perfect for shipboard and other SWAMP (Severe Water & Mositure Prone) environments.
Features & Benefits:
Available on D38999 Series III-style plug connectors
Tested to 480-hour salt spray (D38999 Series III specifies testing to 48 hours)
Protects mating threads and EMI features to ensure that the connector can withstand corrosive environments for a longer period of time
Maintains shell-to-shell conductivity and EMI protection while withstanding longer duration corrosive atmospheres
Significant increase in corrosion resistance by blocking water ingress
Engineering summary report available upon request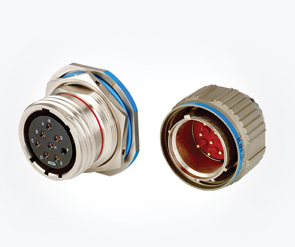 MIL-DTL-38999 Series III - TV
Amphenol Tri-Start MIL-DTL-38999 Series III Connec­tors offer the highest performance capabilities for both general duty and severe environment applications.