Pyle MIL-DTL-83723 Hermetic
Description:
Amphenol's Pyle MIL-DTL-83723 Hermetic Connector provides the standard Pyle MIL-DTL-83723 connector's exceptional durability in harsh environments coupled with mil-spec hermetic sealing requirements through an airtight glass-to-metal seal. Like the standard Pyle 83723, the Pyle 83723 Hermetic can sustain high-temperature functionality with a rating of 392 °F (200 °C) to 500 °F (260 °C).
The Pyle 83723 Hermetic is available in threaded receptacles with solderwell or flat eyelet termination. PC Tail Designs are available upon request.
Features & Benefits:
Hermetically sealed to 1x10-7 cc/sec helium
High-temperature rating of 392 °F (200 °C) to 500 °F (260 °C)
Available with solderwell or flat eyelet or PC tail termination
Threaded Style Connectors:
Stainless steel shells provide corrosion resistance
Metal-to-metal bottoming
High-Temperature Style Connectors:
High-temperature connector materials and contacts provide operation to 392 °F (200 °C) and firewall capability to 500 °F (260 °C)
Styles available that meet several European specifications, General Electric and Rolls Royce specifications
Special Shell Geometry Styles available
Tips for Customizing Hermetics
How many Contacts?
Consider including a number of redundant contacts to accommodate any system developments you have planned for the future, or to comply with specified growth provisions.


What are the electrical requirements?
Work out a steady state and peak requirement for both the current and voltage.


Will your Glass-to-Metal Sealing be under any pressure?
Depending on the medium (for example, oil, water, or a vacuum) there may be a pressure differential to consider. Glass-to-Metal Sealing (GTMS) can be supplied in multi-pin preforms or, for high pressure applications in individual glass beads.


How will your GTMS be attached?
Will it be secured with a standard O-ring, for example, or welded in place?


What are your cable interface requirements?
Be sure to include any instructions for screen termination, potting requirements, and/or cable strain relief.


Do you require custom functionality?
If you have any specific requirements, such as electromagnetic compatibility (EMC) filters or printed circuit board (PCB) mounting, make sure they are included in your design specification.


What are your plating requirements?
We offer a wide range of in-house plating options, including tin, nickel, and hard and soft gold. We can also customize the plating to meet any special requirements. Note that gold-plated solder contacts should either be desoldered before installation or appropriate plating thickness specified, to avoid solder embrittlement.


Are there any environmental factors?
If your application will be operating in a harsh or hostile environment (exposed to shock, vibration, thermal changes or extreme temperatures, for example) these will need to be factored into the design.


What are the qualification requirements?
If qualification tests are required, these should be discussed and specified during the design phase. We are able to perform most qualification tests on the appropriate levels of assembly.


What testing will you need?
Examples include leak testing, pressure testing, and geometrical and electrical testing; including breakdown, voltage, and insulation resistance of finished parts.


Cabling and wiring too?
If you would like to extend your brief to include your cabling and wiring requirements, we can address those as well.
Quick Reference Guide
Performance Specifications
The Amphenol/Pyle® Product line of MIL-DTL-83723*, Series III Connectors was developed for the higher operating temperatures inherent in today's high-performance aircraft and aircraft engines.
These connectors meet the performance requirements of the following manufacturer's specifications:
• European: ASD† EN2997
• Rolls Royce/SBAC: ESC10
BACC63CM supersedes BACC63BR and BACC63CN supersedes BACC63BT.
† ASD supersedes AECMA
How to Order Guide
Dimensions
Insert Chart
Insert Arrangements
Service Ratings
Please note that the electrical data given is not an establishment of electrical safety factors. This is left entirely in the designer's hands as they can best determine which peak voltage, switching surges, transients, etc. can be expected in a partic­ular circuit.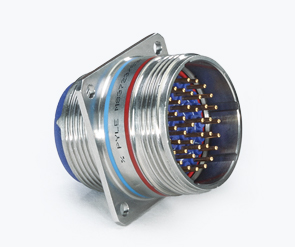 MIL-DTL-83723 (Pyle)
Includes styles from Pyle National, with proven technology for severe environments in commercial and military aerospace markets.
Electro-Mechanical Integration
Building complex assemblies requires a robust quality system, strong engineering support, and world class operators.
Flex/Rigid Flex
Flex and rigid-flex circuitry offer many advantages when considering the most effective means to transmit signals or power within your system.