Rugged 2X Bi-Directional Copper to Fiber Media Converter 1000BASE-T to SGMII
Description:
Amphenol Aerospace offers the Fiber to Copper Converter product line, a flexible, affordable, and rugged fiber copper converter system with many options available. This Amphenol connector will transform your high speed needs to a new level. We have taken two technologies and combined them into a hybrid connector. Now you can transfer high speed data seamlessly from copper to fiber and from fiber to copper.


Features & Benefits:
No need for internal subsystem fiber harnesses,
interconnect, or transceivers
Utilizes copper transceivers and existing
interconnect (backplane, harnessing, faceplate) for
system fiber connection
Media conversion at the connector reduces system
complexity and cost
APH Epoxy staking protects delicate fiber
components for environment and assembly process
8 ports of Gigabit Ethernet
Conversion of 1000BASE-T to SGMII
Compliant with IEEE 802.3ab Ethernet Standards and
Specifications
Hermetic option available with a helium leak rate of
10-4 cc/sec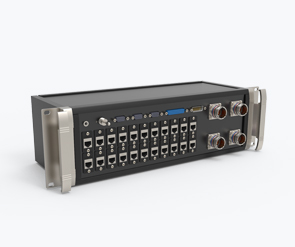 Rugged Junction Boxes
Ethernet junction boxes for rugged military and other harsh environment applications, featuring a wide range of Amphenol D38999 connectors.