4-Channel 160 MSPS 14-bit Analog Input A/D Connector Multimode Fiber Output
Description:
The ADC-4CH-160M-14-F is a four channel,160 MSPS,14-bit analog converter, with an integrated MIL-DTL-38999. The JESD204B I/O devices are to be directly coupled to a host FPGA. The four channel ADC (x2) devices
connect through the high bandwidth connector to a FPGA-based host board which maximizes data throughput and minimizes latency.
The ADC-4CH-160M-14-F supports an onboard programmable sample clock generator as well as an external reference input. Multiple ADC-4CH-160M14-F can be synchronized to increase the number of input channels through the use of trigger input/output signals directly under the control of the FPGA.
Features & Benefits:
Quad 160 MSPS 14-bit ADCs
Onboard programmable sample clock
Option for internal or external ADC clock
Optional pass through clock for
facilitating additions
Integrated MIL-DTL-38999
Rugged and naturally convection cooled
Large range of acceptable
supply voltages
JESD204B interface
MM Fiber Output
Compatible with CTF-4G-24TXRX
Increase PCB space
14 bit resolution
Able to synchronize multiple
channels/boards
Easily interfaces to FPGA-based
host board
Removes bulky RF cabling
Removes costly development
Low power consumption
TI development board compatibility
Extend existing JESD204B via MM Fiber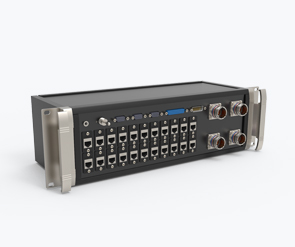 Rugged Junction Boxes
Ethernet junction boxes for rugged military and other harsh environment applications, featuring a wide range of Amphenol D38999 connectors.