LEAP OBT Rugged (12TRx)
Description:
The LEAP® On-Board Transceiver is a rugged 12-channel duplex optical transceiver capable of achieving data rates of up to 28.05Gbps per channel, up to 300Gbps in total when considering all channels. This high-speed fiber optic transceiver is optimized for multi-mode fiber at 850nm and operates effectively in a wide range of conditions:
Operating temperatures from -40°F (-40°C) to 185°F (85°C)
Shock: (500g;1ms) per MIL STD-883 Method 2002.4
Vibration: 20g in the 20-2000Hz frequency range per MIL STD-883 Method 2007.3
The LEAP® On-Board Transceiver was initially introduced in its commercial version (known as 12TRx) in 2015 by AAOP. It is designed to cater to the demands of high-density and high-data-rate applications commonly found in datacenters, supercomputers, and 5G broadband infrastructures.
AAOP expanded its offerings in 2020 by ruggedizing the LEAP OBT. This rugged variant provides enhanced durability and reliability while maintaining speed and density.
To connect the LEAP OBT to a PCB, a dedicated BGA socket and four screws are used. The optical interface features 24F MT ferrule, securely attached to the module using a clip mechanism.
The LEAP is faster, smaller, more cost and power-efficient than most conventional card-edge datacenter interconnects and is capable of speeds of up to 25Gbps with 300Gbps of total through-put that requires only one square-inch of board space and 5.4W of power.
The LEAP adheres to VITA standards: 66.1, 66.2, 66.4, 66.5, 67, and is compatible with SOSA-aligned systems.
Features & Benefits:
Small footprint (1inchx1inch) allows for an optimal space-saving solution
Data rate transparent from 300Mbps to 16.Gbps*
Accepts standard MT24 ferrule – Separable Interface
Two-wire control and diagnostic interface (i²c)

Tx Power monitoring
Temperature monitoring
Input voltage (module)
Rx Power monitoring (RSSI)
Bias current monitoring
Programmable input equalization
Programmable output amplitude and de-emphasis

Clock and Data Recovery functionality*
Low power consumption (0.3W average per channel at 10Gbps Tx+Rx)
High link-budget (14dB nominal at 10 Gbps, PRBS31)
*Amphenol can provide the fiber optic cables on request (e.g. MT-MPO or MT-fanouts)
VITA compliant: 66.1, 66.2, 66.4, 66.5, 67
Usable in SOSA-aligned systems
Electrical Pad Layout
OBT Pad Layout (view through the transceiver on host board connector) / DNC = Do Not Connect
Block Diagram
OBT Transceiver 12 Channel
LEAP OBT Socket
The LEAP® OBT socket has been designed to host the LEAP OBT optical modules (standard & rugged). The socket is soldered onto the PCB.
LEAP® OBT evaluation kit
The LEAP® OBT evaluation kit allows assessing and optimizing the performance of the LEAP® OBT modules for their operation in specific end-user applications.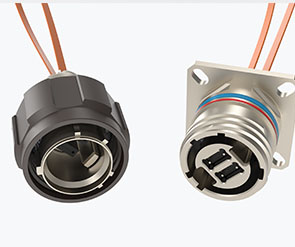 MTC-HD – High Density MT Ferrules with 6 Insert Arrangements
Next-generation fiber optic circular connector with high-density MT ferrules.