Filter Adapters
Description:
Filter adapters present an effective and economical method of introducing EMI/EMP protection to an installed system. The adapter series of filter connectors from Amphenol are available to intermate with all the popular MIL-Specs.
Installation of the adapter is quick and efficient, requiring no tools, fixtures or extended downtime. Simply un-mate the existing cable harness from the receptacle; attach the coupling nut to the receptacle on the unit; then mate the cable harness to the receptacle side of the adapter. Several design alternatives are available that will help ensure that the adapter remains permanently attached to either the cable harness or the unit receptacle.
Features & Benefits:
An effective and economical method of introducing EMI filtering and/or transient protection to an installed system
Intermateable with all popular MIL-SPEC connectors
Can also be configured to provide transient protection utilizing diodes and MOVs
Space qualified components available
Quick and efficient installation
Readily available in MIL-DTL-38999
Series I, II, and III as well as
MIL-DTL-26482 types
Dimensions
Insert Arrangements
Check each product series for insert arrangement information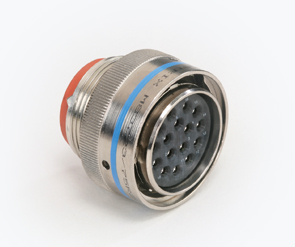 MIL-DTL-83723 Connectors
Medium-sized, environmentally resistant circular connector. Used for both general-purpose and high-temperature applications in commercial aerospace -- BACC63CM/CN, EN2997, ESC10/ESC11.