MGT-5015 High Power Reverse Bayonet Coupling Connectors
Description:
The MGT-5015 line of high-power Amphenol connectors is an expansion of the GT-5015 series, offering a ruggedized environment connector in a variety of military and commercial finishes such as Durmalon and black zinc nickel. Available with press-fit or crimp removable contacts, these connectors use machined shells that can be customized for any design to meet a specific application's needs.
Termination options include crimp, solder, PC tail, threaded, or custom-designed bus bars. Upgraded socket contacts include the RADSOK® high current sockets and Amphenol's Temper-Grip socket, which carries more current than a standard contact at higher temperatures than a RADSOK®
MGT-5015 comes with either Neoprene or Viton material inserts and either gold or silver plated contacts. MGT-5015 can operate in a temperature range of minus 55 degrees Celsius to 125 degrees Celsius with Neoprene inserts and a range of minus 50 degrees Celsius to 200 degrees Celsius with Viton inserts.
Features & Benefits:
Quick positive coupling
Waterproof–IP67 rated
High shock and vibration capabilities
Numerous military and commercial finishes available
Rated for 2,000 mating cycles
Up to 50% more ampacity with the use of RADSOK®
Customized solutions available
How to Order
Current Carrying Comparison
RADSOK Technical Information
Low Contact Engagement/Separation Forces:
The hyperbolic lamella socket contact construction distributes normal forces over a high percentage of mating pin surface. This creates a smooth, even engagement effort. This force distribution also contributes to excellent performance in vibration applications with resistance to typical fretting corrosion.

Low Contact Resistance:
The large interface area between the socket lamella and pin surface results in very low contact resistance, enabling the RADSOK® contacts' high current rating compared to traditional power contact designs.

High Mating Cycle Durability:
RADSOK contacts with typical silver plating finishes have demonstrated the survival of 20,000 mating cycles. Even with continuous exposure to harsh environmental abuse (salt, sand, and high humidity). RADSOK contacts have been tested to maintain low contact resistance beyond 10,000 mating cycles.
Standard Contacts

RADSOK Contacts

Size
Amps
Size
Amps
Cartridge Size
8
46
8
70
3.6mm
4
80
4
120
5.7mm
0
150
0
250
9.1mm
Temper-Grip Technical Information
High Temperature Capability:
For use in high temperature (200 C+) applications, the Temper-grip socket has been tested to maintain current capability in high-temperature situations where standard mil-spec socket contacts can begin to relax.

"Napkin-Ring" Technology:
Proven design utilizing a stainless steel napkin ring to prevent the beryllium copper tines from "relaxing" at higher temperatures and maintaining a greater area of true contact in all situations to decrease resistance.
Standard Contacts

Temper-Grip Contacts

Size
Amps
Size
Amps
8
46
8
65
4
80
4
110
0
150
0
220
Temper Grip Contacts
1:01
Amphenol Temper Grip Contacts
1:42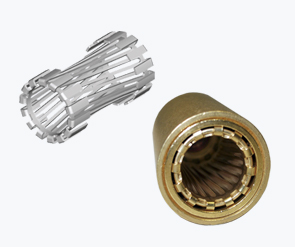 RADSOK®
RADSOK® technology is based upon a stamped and formed flat grid, uniquely twisted into a hyperbolic geometry to provide robust, high-density contact to the mating pin contact.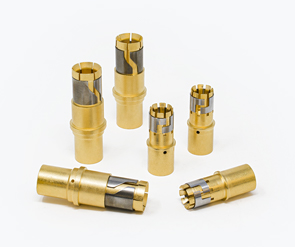 Temper-Grip
Temper-Grip socket contact series is a high-current technology designed for use in high temperature applications, and available with most Amphenol connectors.