NG-TRx Board Mount Transceiver
Description:
The NG-TRx is a high-performance board-mount optical transceiver designed for demanding NAVAIR/NAVSEA harsh-environment applications. This transceiver is engineered to handle data rates of up to 10Gbps at 1300nm across four channels. The NG-TRx integrates the interface attributes found in NGCON and ARINC 801 while incorporating proven opto-electrical transceiver components.
The NG-TRx allows for the insertion of a standard NGCON termini or ARINC 801 using commonly available insertion and removal tools. This ensures a rugged and reliable fiber interface, providing a secure connection that guarantees fault-free operation in the harshest environments.
Features & Benefits:
Four optical channels:

Each can be configured as either a fiber optic transmitter or receiver
Each can support 850nm multi-mode, 1310nm single-mode,
or 1300 multi-mode

Protocol agnostic - can support encoded or pathological data
Supports data rates from 25 Mbps to 10.3125 Gbps
MIL-PRF-62466 or ARINC 801 for MIL-PRF-29504/18
industry-standard fiber termini interface
Onboard monitor for status and diagnostics (I2C)
Operating temperature range: -40 °F (-40°C) to 185 °F (85 °C)
Transmit enable pin for any and all transmitters
LOS pin for any and all receivers
Fault pin – for various errors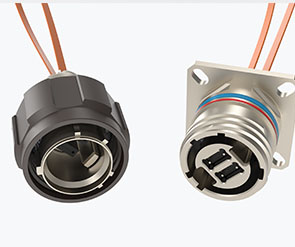 MTC-HD – High Density MT Ferrules with 6 Insert Arrangements
Next-generation fiber optic circular connector with high-density MT ferrules.