QEPT 200G PAM4
Description:
The QEPT 200G PAM4 Optical Module is a versatile and high-performance solution designed to meet the demands of today's data-intensive applications. With options for a 4-channel configuration (4TX+4RX) or 12-channel half duplex (12TX or 12RX), this high-speed fiber optic module accommodates data rates of up to 56 Gbps PAM4 and is backward compatible at 25Gbps NRZ. A QEPT 100G NRZ module provides system engineers a platform to increase data rates quickly and efficiently without redesigning the circuit card assembly.
The QEPT 200G integrates PAM4-enabled VCSEL drivers and TIA technology, ensuring that your data transmission remains robust, reliable, and efficient. Whether you require more channels, higher density, or both, the QEPT 200G is a versatile platform product that scales seamlessly from 100Gbps to 200Gbps.
The QEPT 200G is the ideal choice for applications where space constraints and heat dissipation are critical concerns, while still supporting the use of widely adopted 850nm multi-mode technologies. Its compact design and exceptional heat management make it a top choice for space-sensitive applications.
Features & Benefits:
The QEPT 200G integrates the finest & latest PAM4 enabled VCSEL drivers & TIA available on the market to ensure optimum performance.
QEPT 200G PAM4 is a perfect solution for demanding applications where real-estate and heat dissipation is an issue, whilst allowing the useage of widespread 850nm multi-mode technologies.
Customer sampling upon request starting Q1-2023.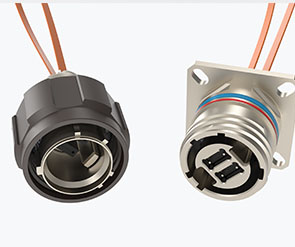 MTC-HD – High Density MT Ferrules with 6 Insert Arrangements
Next-generation fiber optic circular connector with high-density MT ferrules.