MIL-DTL-55302 Low Mating Force Connectors
Description:
Amphenol's MIL-DTL-55302 Low Mating Force rectangular connector series is one of the highest performing board connectors in the world, with proven performance on the ground, in the air, and at sea. This series utilizes the B3 brush contact system known for low mating force, stable electrical performance in high vibration, and extended service life.
Features & Benefits:
0.100 inch center to center, square grid contact spacing
Application flexibility (parallel boards, perpendicular boards, wire to board, end to end boards, card extenders)
2, 3 and 4 row contact arrangements with 10 to 100 contacts per row in one contact per row increments
Military versions meet MIL-DTL-55302/166 through /172
Termination versatility; straight & 90° PCB stud, wire wrap & crimp
Performance Specifications
Performance
voltage rating: SL/1300 70,000 ft./325
one and one-half ounce average contact engaging/separating forces
7 milliohms average contact resistance for row A contacts
(Resistance will vary depending on the point of measurement and the length of the contact.)
3 ampere – PCB contacts; 5 ampere – wire wrap / crimp contacts
–65°C to +125°C temperature rating
5 gigaohms minimum insulation resistance
Materials
Connector Body – Glass-filled thermoplastic molding material in accordance with MIL-M-24519 type GPT-15F and/or Grade B
Class 15 of MIL-P-46161 (UL94V-O)
Polarization Keys – Glass-filled acetal plastic molding material in accordance with MIL-P-46137
Locking Screw/Mounting Bushing – Corrosion-resistant steel AISI 300 types passivated in accordance with QQ-P-35
Contacts
Holders – Copper alloy in accordance with Federal Specification QQ-B-626 or SAE J463
Wire – Berryllium copper in accordance with Federal Specification ASTM B197
Sleeves – If applicable, stainless steel in accordance with AMS-5514 passivated in accordance with ASTM A967
Brush Contact Technology
Brush Contacts vs. Conventional Pin and Socket Contacts
Brush Contact Innovation
Multiple contact interfaces - Strands of high tensile wire are bundled together to form brush-like contacts. By intermeshing two multi-strand wire bundles, an electrical connection is made.
Provides redundant current paths, 14-70 (points of contact) per mated contact with a gas-tight junction
Very smooth (low friction) interface
Conventional Pin and Socket
Machined surface finish on both parts
Higher friction and wear
Limited number of contact sites
Connector Options
Mated Pair Options
How to Order Guides
Row + Cavity ID, Contact Arrangements
Connector Dimensions
2 Row Contact Arrangements
3 Row Contact Arrangements
4 Row Contact Arrangements
Smaller Size .100 x .100 Sq. Inch Grid
Hybrid Configurations
Docking Connectors
Accessories
Installation Instructions
HDB3/HSB3
Incorporates a higher density contact pattern and lower mated height than Amphenol's standard low mating force rectangular connectors.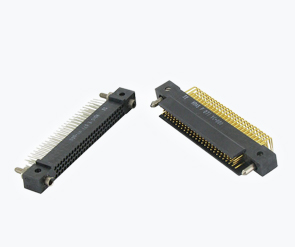 HDAS
HDAS rectangular connectors are the right high-density PCB connector when installation, cost and reliability must be considered.
Micro HDAS
The 1.27mm pitch connector. Smaller, lighter & still as strong.