3G SDI Standalone Fiber Optic Media Converters
Description:
Amphenol's 3G SDI Standalone Converter is a Rugged multi-channel fiber to copper fiber optic media converter. This standalone media converter has 3 channels and converts SDI fiber signals to 75ohm 3G/HD/SD-SDI rugged BNC connectors. These converters can be used in harsh environment avionics, ground systems, or naval applications that need to transmit and receive SD/HD/3G-SDI signals over fiber optic cables.
Features & Benefits:
Converts SDI fiber signals to 75ohm 3G/HD/SD-SDI
rugged BNC connectors
Fiber inputs are made for 9/125 micron single mode
fiber with 1310nm wavelengths
Input power is brought in over separate MILDTL-38999 connector and is compatible with 28VDC
-40C to +85C operating temperatures and meant for
military/commercial aerospace environments
Variants for multi-mode 850nm 50/125 and 62.5/125
support are also available
Standalone Converter Dimensions
SDI Sub-System Fiber Optic Media Converters
Ruggedized multi-channel copper to fiber fiber optic media converter using D38999 connectors and additional copper re-drive channel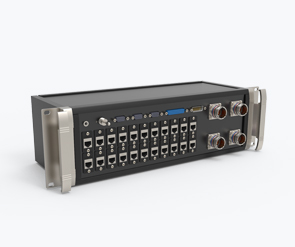 Rugged Junction Boxes
Ethernet junction boxes for rugged military and other harsh environment applications, featuring a wide range of Amphenol D38999 connectors.