PCI Express 1.0/2.0/3.0 Copper/Fiber Conversion
Description:
Amphenol's Rugged PCI-Express 1.0/2.0/3.0 fiber optic conversion active assembly provides systems integrators great flexibility as PCI-Express can now be extended over fiber optics in rugged systems. The current product supports a x8 PCI-Express interface on each end of the active cable along with rugged D38999 series 3 receptacles with embedded Oval Contact System high performance contacts for the extension of the interface between sub-systems. The product can support down to PCI-Express 1.0 and up to 3.0 as well as flexibility down to a x1 interface and up to a x8 interface.
Features & Benefits:
Support for PCI-Express 1.0, 2.0, and 3.0
I/O expandability from x1 to x8 channel widths
Power is sourced from the P1 side and then internally routed to the alternate electronics near the
P2 connector
The rugged fiber optic link can be up to 750 meters
MIL-STD-810 compliant for vibration, temperature, shock, humidity, EMI, etc.
Integrated with embedded High Speed Oval Contact System contacts for the copper PCI-express interface.
Max 64Gbps or 8GB/s system through put for a x8 PCI-express 3.0 link
How to Order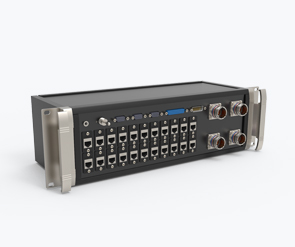 Rugged Junction Boxes
Ethernet junction boxes for rugged military and other harsh environment applications, featuring a wide range of Amphenol D38999 connectors.