EMI Filter Solutions For Every Connector
Transient Protection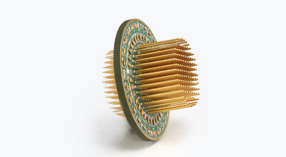 Diode Connectors
Offer the versatility of a standard connector, with transient protection for sensitive circuits, such as TTL Lines.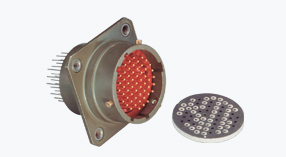 MOV - Metal Oxide Varistor Connectors
Offer the versatility of a standard connector, with transient protection for sensitive circuits.
---
What is a Filter Connector?
An Amphenol Aerospace filter connector is designed to remove unwanted signals or EMI from the input/output lines. It looks similar to a standard connector, but has additional electrical components embedded inside. The internal filtering components are carefully designed to preserve the mating interface making it compatible with the same connector series and allowing for retrofitting and mating with preexisting infrastructure.
Amphenol Aerospace can offer compliant filter connector solutions for any component or subsystems that need protection from EMI or EMP exposure.
What is EMI?
Electromagnetic interference EMI and Electromagnetic compatibility EMC issues are two of the most important considerations when designing and manufacturing electrical systems. Amphenol utilizes industry leading technology and innovation to provide Radio frequency interference RFI protection to sensitive systems. EMI is a disturbance generated by an external source that affects an electrical circuit. Some types of EMI include interference from radio waves, stray transmissions, electric power lines or electric motor noise.
An electromagnetic pulse event or EMP is a strong pulse of energy that is capable of short circuiting electronic systems not equipped with EMI/EMP protection.
EMI Protection
There are two main types of EMI which are called conducted and radiated EMI.
Conducted EMI is any form of interference that is directly transferred along the input/output lines.
Radiated EMI is interference that is transferred through the air, picked up by the input/output lines and requires no physical connections.
Amphenol filter connectors protect against both conducted and radiated EMI by strategically orienting the internal filtering components to target different threat profiles.
Amphenol Filter Connector Applications
Amphenol Filter Connectors are used in many military and aerospace applications.
Commercial Aircraft

Boeing 787
Boeing 737
LEAP-X

Military aircraft

F-35
F-22
F-18
F-16
C130J

Military ground vehicles
Military Sub-systems

radar equipment
missile warning systems
refueling systems
engine systems
landing gears
avionics boxes and much more
Mil-Spec Filter Connectors
Amphenol Aerospace offers a wide variety of circular filter connector solutions to meet almost any customer requirement. Below is a list of some common mil specs utilized in filter connector solutions:
MIL-DTL-38999
MIL-DTL-5015
MIL-DTL-26482
MIL-DTL-26500
MIL-DTL-27599
In addition to standard Mil-Spec offerings, Amphenol engineering can customize any connector to meet the customers' requirements. Amphenol filter adapters are used to connect a plug and receptacle in order to introduce filtering capabilities into the system.
Filter adapters are common in testing environments or in systems where pre-existing connectors are already installed. Amphenol also offers transient protection connectors that protect from overvoltage events such as EMP, ESD, or lightning strikes. This technology can be coupled with filtering technology or operate without filtering if required.
Transient Voltage Protection
Amphenol's Transient Voltage protection meets all aircraft performance requirements and also combines traditional environmental protection provided by Mil-spec connectors. Transient Connectors utilize TVS Diodes and MOV's to shunt high current spikes to the ground.
Types of EMI Filter Connectors
Filter connectors utilize capacitors, Planar and Ferrite Inductors inside of connectors to prevent unwanted signal noise which could be detrimental to a systems functionality and performance.
Pi Filter - Consists of two planar capacitors with a ferrite inductor installed in between that offers a steep insertion loss curve.
C Filter - Consists of a single planar capacitor that is simple and cost-effective design that often exceeds performance of multi-component configurations.
C-L Filter - Consists of a single planar capacitor followed by a ferrite inductor. Best used when source impedance is greater than load impedance.
L-C Filter - Consists of a ferrite inductor followed by a single planar capacitor. Best used when load impedance is greater than source impedance.
T Filter - Consists of two ferrite inductors with a single planar capacitor installed in between. Superior high frequency performance.