Split-Pair Quadrax Contacts
Description:
Overall higher bandwidth than standard CAT5E quadrax - Supports up to 6.5 Gbps per pair. For CAT6A type cable. Enhanced crosstalk performance (compared to standard quadrax) due to compatibility with shielded twisted pair of cables. Can be used for a variety of high-speed applications beyond current star quadrax design. Outer contact has rugged wall section for durability.
Features & Benefits:
Available in size 8 crimp termination style
Also available in PC Tails
Available for 100 Ohm Impedance Applications
For MIL-DTL-38999 Series III Connectors
Supports a wide range of wire types/sizes
Requires modification of MIL-DTL-38999 connector to accommodate keyed contacts
Performance Specifications
Environmental Sealing: IAW connector specification
Corrosion Resistance: 500 hours salt spray
EMI Shielding: 360 degree shielding on each pair
Mating Cycles: 500 cycles
Voltage Rating: 500 Vrms max @ sea level
Dielectric Withstanding Voltage: 500 VAC RMS sea level
Temperature Range: -65C to 175C
Data Rate: 6.5 Gbps.
Voltage Rating: 500 Vrms max. @ sea level, DWV 1000 VAC rms between all inner contacts @ sea level
Supported Protocols
For use with, but not limited to the following electrical protocols:
10/100/1000/10GBASE-T Ethernet
DVI
USB 2.0,3.0
Serial Rapid IO (up to 3.125 Gbps)
PCI-Express 2.0
HDMI 1.3a
SATA 2.0 (up to 3 GHz)
Cable selection may limit data rate of above protocols
Frequencies and Performance Data
Split-Pair Quadrax Transition Adapter Part Number List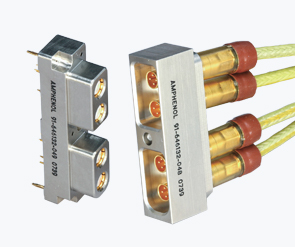 Rectangular Connectors with High Speed Contacts
Offer several advantages for high data transfer rates, low power consumption, and excellent EMI compatibility.