32-Channel 10G Rugged Ethernet Switchbox

Description:
Amphenol's Rugged 32 Channel Ethernet Switch Box provides an unmatched level of flexibility to meet any system requirement. The switch box is a 32 port standalone Ethernet Switch box that is configurable for system connectivity, speeds, port types, and interoperation with various high-speed media converters and connectors for system interfacing. Each port is capable of 10G Ethernet – some ports can either be configured as 10G-Base-T (also supporting 100-Base-T and 1G-Base-T) or 10G-Base-SR and 1G-Base-SX. The switching throughput is up to 320 Tbps when using all 32 ports on the switch box. In addition, the switch is non-blocking and low-latency for high-throughput architectures and applications. In Amphenol's state of the art Spirent communications testing center, the switch box is tested aggressively at line rates to RFC 2889 for switching and RFC 2544 for L2/L3 performance, latency, packet forwarding, and other key items. The switch is manufactured using Amphenol's MIL Qualified MIL-DTL-38999 Series III connectors. These connectors contain standard AS39029 qualified Size 22D contacts, Octonet contacts and 48F MT Ferrule Fiber Optic contact assemblies.
Features & Benefits:
8 channels of Copper – 10/100/1G/10GBase-T
24 channels of Fiber – configured as 1GBase-SX or 10GBase-SR • 320 terabits per second non-blocking L2/L3 switch • Dual core ARM processor with flash, SPI, EEPROMs, and DDR3 and mgmt. Ethernet connection • Uboot and Linux OS for L2 / L3 switching • Web browser, SSH, CLI, telnet • Embedded reset and status CPLD • Service micro-controller for power down, reset, and restart in overheat event • 28VDC mil-spec power supply with EMI filter
100 Watts typical power consumption at room temperature
ETI, Circuit breaker, power supply status LEDs
Power connector, debug connector, maintenance connector – all D38999's
MIL-Spec black painted chassis with cold plate external conduction cooling
Environmental requirements nearly identical to current product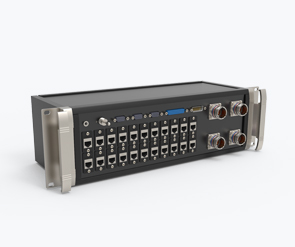 Rugged Junction Boxes
Ethernet junction boxes for rugged military and other harsh environment applications, featuring a wide range of Amphenol D38999 connectors.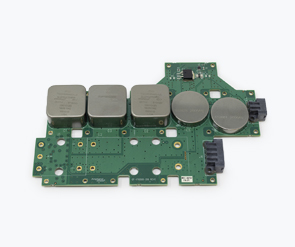 Power Module
Amphenol's Integrated Solutions team can design and manufacture rugged DC/DC power supplies for all types of embedded systems applications.